18
May 09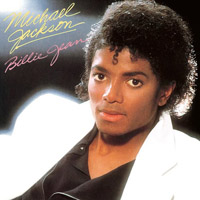 Michael Jackson came to the title "King of Pop" in the style of a medieval ruler, carving out his realm piece by piece across a hard year of campaigning. He won some of his new subjects when he performed this song as part of a Motown anniversary special: others when he formed common cause with Eddie Van Halen or Paul McCartney. His fiefdom suddenly extended across my school playground with the release of the "Thriller" video and its body popping zombies. Through it all the album and its spin-offs sold, and sold, and sold. "Billie Jean", its Wikipedia page claims, has now topped 800,000 sales as a digital download, a format invented close to 20 years after its release.
What few mentioned was how strange Thriller was, how odd and sincere and childlike in some places, and how nightmarish in others. Half the record is heartbreakingly tender, the other half hard-edged and horribly tight-wound. Jackson's stuck in the middle, and the pain is thunder: uneasy lies the head that wears a crown.
"Billie Jean" itself is the album's darkest moment, where the goblin babble pressing in on Jackson during "Wanna Be Startin' Something" goes fully internal and the barely-together bundle of tics that became Jackson's star persona steps into the spotlight. Jackson's one-take vocal is a long shudder – the gollum-gulp on "her schemes and plans", the betrayed moan of "his eyes were like mine" – and the real craziness happens on its fringes. That contradictory "do think twice!"/"don't think twice!" collision; the constant "ooh", "oh", and "no!" echoes; the clucks and gasps; and especially the madman's comic book laugh punctuating the track, that eerily deliberate "hee hee hee".
And of course this near-meltdown is the album's most grippingly commercial moment too. Jackson's claustrophobic performance is boxed in by stalking bass and arid drums, underlined by clawing and skittering guitars, counterpointed by those sensuous flushes of strings. A song about the fatal irresistibility of a dancer really does need to be irresistible on the dancefloor: at a hundred million weddings and discos since, "Billie Jean" has proved its mettle in that respect. But when you follow Jackson's performance down and in, none of that matters – "Billie Jean" is a disquieting, troubled record.
9
Comments
«
1
…
3
4
5
All
«
1
…
3
4
5
All
Add your comment
Top of page