22
May 09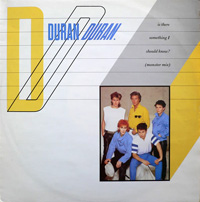 "Is There Something" – released between albums to maximise chart returns – is by no means Duran Duran's finest moment. The chorus is a chant in search of a hook, and the shamefully half-hearted middle eight is a collection of atmospheric blurts in search of an editor. It's also – one notorious line aside – the least exciting of Duran's mid-period hits. It lacks the gleeful absurdity of "Rio", the sleaze of "Union Of The Snake", the shameless drive of "Hungry Like The Wolf".
For all that, there's an aura of dumb confidence about the band that carries this record through. It reminds me a bit of Slade, another Midlands band who seized their moment and owned it completely. Not that they sounded anything like Slade, but like Slade they're immediately recognisable, brazenly direct and seemed to have a sense of total security in their sound. (This is what made the band's later fragmentation into cringing side projects so embarassing.)
That sound being? Well, you hear references to synthpop and to funk but those never quite capture it. On "Is There Something I Should Know" the defining feature of the music for me is that even though only Nick Rhodes played synths, everything sounds like a keyboard: vivid, staccato, and shiny. Except Simon Le Bon, who sounds as uncomprehendingly pained as ever, and as such was the group's secret weapon.
Being Duran Duran's singer meant you had to learn to sing absolute nonsense with absolute conviction, and if their next #1 was the greatest sustained example, "Is There Something" has their most famous line. "You say you're easy on me / You're about as easy as a nuclear war" – the lyric sums up the band's sometimes clunking overreach, but Le Bon's crunching delivery reminds you why they got away with it.
6
Comments
«
1
2
All
«
1
2
All
Add your comment
Top of page