7
Apr 09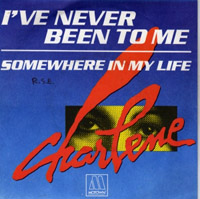 One of my favourite old threads on ILX was a compendium of right-wing American cartoons, in which politics I found highly disagreeable were counterbalanced by craft and chutzpah. In fact my reactions were murkier than that – my horror at the opinions was part of the thrill. I certainly wouldn't have had this reaction to right-wing columnists or talk shows so I assume the medium gave the material a – possibly dangerous – air of safety.
I have a similar reaction to conservative pop, especially country and country-tinged records like "I've Never Been To Me", which Charlene kicks off in a laid-back Carly Simon mode before waxing increasingly rabid over the futility of female independence. The rather feeble self-help title is no preparation for the contents: this is strong meat. "I've spent my life exploring the subtle whoring that costs too much to be free" is the kind of lyric I'm surprised to find at #1 unbanned – perhaps DJs were simply too shell-shocked by the bug-eyed spoken word interlude ("THAT'S love! THAT'S truth!") to notice.
The masterstroke is presenting the whole thing as a Rime of the Ancient Mariner style narrative, sung to an anonymous lady who is quite probably trying hard to extract herself from the conversation. The frame gives a context for Charlene's rising hysteria – she knows she might be taken as a nutcase but she's got to get her story over anyhow. So unlike, say, "No Charge", "Never Been To Me" isn't ever complacent – there's something at stake here (even if you don't agree).
The arrangement is creamy, well-constructed MOR, but beyond the lyric it's Charlene's performance that makes "Never Been" so memorable – the way she sounds so ecstatic wallowing in her own disappointment, her dangerously precise cadences, her marvellous 70s breathiness. Yes, in the charts of 1982 this might have seemed like an infuriating anachronism – but I think its unusual blend of schlock and intensity would have stood out in any year.
7
Comments
«
1
2
3
All
«
1
2
3
All
Add your comment
Top of page