21
Nov 08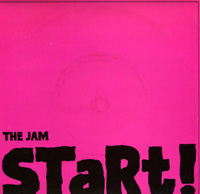 Not everyone in 1980 wanted to break from the past, but "Start!" is more than just recycling – in fact it's one of Weller's more experimental hits. The "Taxman" riff holds the track together, taking the place of a chorus, lending beat and muscle to an otherwise piecemeal record. There's not even an attempt to disguise the source – especially as one of the fragments the riff glues together is a solo lifted nakedly from the same place. Playing this unifying role the "Taxman" lift is working like sampled breaks will come to operate – and in fact the beatwork is the star of "Start!", those urgent, clipped shakers and brushes upping the track's momentum considerably.
The record "Taxman" kicks off was the Beatles' farewell to life as a working band – they'd come as far as they could with the tightness and telepathy the small-group, live-oriented format offered and were getting ready to expand. "Start!" is Weller reclaiming "Taxman" for mod and for small-group pop, a song about the vital power of communication, the magnetism of the tiny gang, the way two minutes can make a lifetime of difference: by the two-minute standard, the track has 14 seconds of flab – probably the second "If I never ever see you" break. Communication, of course, leads to compromise, so lace it with opposition: unite through hate, split immediately, never let us speak of this again (only remember it always). This gives "Start!" a slightly austere, hectoring tone, its compressed fury directed at least a little bit at you for listening to it.
My impression of Paul Weller – at this point anyway – is that he was both deeply conflicted about having become some kind of youth leader but also entirely convinced that nobody else could do it. And he was probably right – all the other candidates would have wanted the job too much. You could imagine someone like Bob Geldof writing a song like "Going Underground" – and probably making a fearful bish of it – but not a song like "Start!", a record that sounds so angrily uncomfortable in its own borrowed skin.
7
Comments
«
1
2
All
«
1
2
All
Add your comment
Top of page