3
Nov 08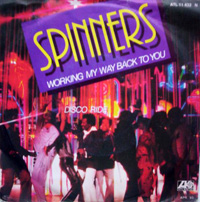 This is one of those Number Ones that feels like a long-service medal: certainly you wouldn't begrudge the band who made "Ghetto Child" and "Mighty Love" a hit this size, but "Working" isn't quite up to that standard. It is what it is: a song out of time, wrenched out of an earlier era and brushed unsympathetically up to conform to current best practice.
Which meant disco, of course, but in the case of "Working" the disco framework feels too rigid for what's quite a sinuous song. There should be room here for the song's hesitation, regrets and triumphs to get across – as in the Four Seasons original – but the merciless beat levels these emotions out. Disco wasn't emotionless music – quite the reverse! – but when applied by rote it could end up seeming that way. You half expect to see the suffix "'80" on the single sleeve.
That said, there's enough quality and gusto here to make "Working" a very enjoyable record, and subtleties enough beyond the pumped-up chorus. The unhappy confession of emotional sadism and weakness; the supportive harmonies; the redemptive interpolation of "Forgive Me Girl" – a really effective use of the medley technique. Difficult to dislike.
6
Comments
«
1
2
All
«
1
2
All
Add your comment
Top of page