13
Nov 08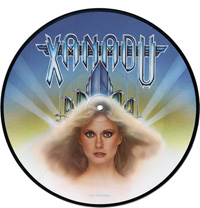 A splash of escapist colour, ELO's only number one also feels rather dated, out of synch with any of the gritty or futurist or reactionary 1980s we've met so far. This is in one way a very unfair perception: this was a meeting of two commercial powerhouses, best-selling artists of the last two years. But while ELO's disco move had made plenty of sense in 1979, it had also coincided with the peak of disco's mainstream popularity – the film, touted as the new Grease, was a relative bomb, and it seems to me the context "Xanadu" fits into is a kind-of mopping up of the seventies.
Being untimely doesn't make it a bad record, though: it's nice that Jeff Lynne's thick, opulent take on pop had one go at the top, and Olivia Newton-John's wide-eyed vocals soften the bombast. If it doesn't have the demented gusto and everything-goes ambition of ELO's imperial-phase hits, it's got drive and hooks and it delivers its payload of nonsense without a hint of shame.
The Xanadu film's instincts weren't precisely wrong. The goal of the film's hero – to open a, like, really amazing nightclub (and shag a muse) – might have chimed with a decade where club culture would drive pop more than ever. But not this type of club: the pleasure palace uniting generations and eras was a dying dream. The greedy inclusivity of the disco bubble had popped, leaving "Xanadu" placeless.
6
Comments
Add your comment
Top of page