26
Nov 08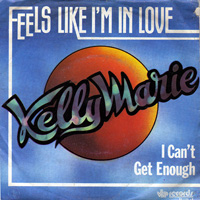 One of the things that gives 1980's number ones a queer, lopsided aspect is the way there's not much of a middleground between hits which emerged more or less direct from youth subcultures and those shepherded into popularity by the likes of Noel Edmonds. In particular the pre-teen and tween market seems pretty dead at this point. This void would soon be filled with sound and light and ribbons and stripey noses but meanwhile pop was the stamping ground of young adults and not-so-young ones, a world in which hormone rushes had been replaced by messily consequential relationships.
The curious child – a seven-year-old like me – might have found this grown-up pop scary, mysterious and compelling. But (and this is what I did in fact do) they might also opt out entirely. My parents weren't interested, and any influence I had over the TV ended with the closing Blue Peter theme. In Autumn 1980 I changed schools, and started getting more homework, so bedtime was rolled back: this is where I start remembering news stories (Mount St Helens, the Moscow Olympics), and could watch Top Of The Pops regularly. Not because I wanted to, just because it was there. If I'd grown up now, in a multi-channel world where I could have watched cartoons and sci-fi shows and dinosaur documentaries all afternoon, I might never have cared much about pop at all.
Kelly Marie falls just before this cut-off point, so what has this got to do with her? Just that there actually was still a version of pop made available to kids, a kind of light ent junior centered around Swap Shop and TISWAS on a Saturday morning. The watchword here wasn't kid appeal but cheapness – low cost alternatives to chart staples with presumably low booking fees: Budgens singer-songwriters and Woolworths disco. This half-remembered take on pop culture isn't much represented on Popular, unsurprisingly given that the major star was the omnipresent and quite useless B.A. Robertson. But Kelly Marie was totally part of it, of pop as I actually experienced it in 1980 – which perhaps explains why I'm fond of what is by any reasonable standard a shoddy bit of work.
"Feels Like" is a grotty, grubby, British version of disco, the syndrum hits from "Ring My Bell" relocated to the Maplins Hawaiian Ballroom, busybodying you onto the dancefloor. If the fantasy of disco – decadent, sexual, aspirational – has a Playboy style appeal, Kelly Marie was more readers' wivesy. That's not really because of her mildly saucy performances, it's more to do with her vowelly vocal line – "fee-uhls like ah'm in lu-huv!" (DOO DOO). It gives the record an enthusiastically amateurish air, like it's a karaoke version of itself. For listeners with a stake in club music, Kelly was no doubt a horror show, but in a year low on bubblegum I find it hard to judge too harshly.
6
Comments
«
1
2
3
4
All
«
1
2
3
4
All
Add your comment
Top of page