8
Oct 08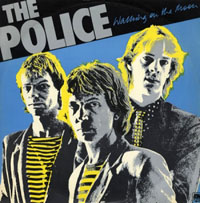 "Walking On The Moon" has two strong, distinct and positive associations for me. It's one of the first videos I can remember, and I was beyond impressed that The Police were standing around playing in front of an actual spaceship. Having no idea what dub reggae, or indeed any reggae, might be, I associated the record's strange lope with the bouncy effects of moonwalking, which I knew from Herge's Explorers On The Moon were quite dramatic. Of course I'm pretty sure this was Sting's intention – at least on the chorus which has a certain sproing to it.
The second association comes from years later, on honeymoon in Poland in November. If the jump from "Poland in November" to "honeymoon" seems large to you, then I can't blame you, but we had a lovely time. One afternoon we got a bus from Bialystok to Bialowieza, a village on the very edge of Europe, in the middle of the continent's last primeval forest. The bus was busy: we had to take separate seats so I got my discman out. The forest itself was magnificent, but to get there we passed through what looked like desperately poor farming areas, mostly deserted – abandoned plots, rusting machinery and bleached winter fields laid out flat under a grey sky. I'd filled my holiday CDs in a pre-wedding rush, but the sequence of tracks was perfectly bleak: David Banner's "Cadillac On 22s"; UB40's "The Earth Dies Screaming"; Culture's "Two Sevens Clash" – and this. So when I hear it now it's that blasted landscape that comes to mind, rather than Sting's metaphor for infatuated giddiness.
As with "Message In A Bottle", Sting's contribution on bass is terrific – its sprightliness injecting that vital lift into the chorus which gives the record a bit of extra shape and direction. His contribution on vocals is less successful – another obstacle course of weird inflections for the listener to negotiate. But the compelling soundworld of "Walking" – skittering drums, echoed stabs of guitar and most of all so much space – is still an unusually abstract one for the top of the charts. Vocals aside, "Walking" finds a workable accord between pop and dub and exploits it superbly.
7
Comments
«
1
2
All
«
1
2
All
Add your comment
Top of page