13
Aug 08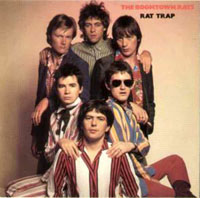 "Rat Trap" is billed – in the Guinness Book Of British Hit Singles, no less – as the first punk No.1. I couldn't recall it – my memories of the Rats themselves were vague; Geldof I knew for later good works. So I approached "Rat Trap" cold but with a frisson of definite expectation. Geldof tore up a picture of John'n'Liv on Top Of The Pops, didn't he? So "Rat Trap" – great title, Sir B – was surely something tight and angry, a sliver of nimble menace in the shadows of 1978's poptopian monsterhits.
Five minutes later my expectation had turned to shock and laughter. Whatever I'd anticipated it wasn't this: five woeful minutes of scraggy street-rock pastiche, Born To Run with the melted-down Crystals records replaced by stolen chip fat. Far from the first punk No.1, this risible track sounded like an early warning of one of indie's less palatable side-effects: a deadly combination of overreach and the feeling of virtuous entitlement that being (relatively) outside the mainstream would lend to mediocre bands.
But once I'd lived with "Rat Trap" a bit, my initial scorn softened – starting with that scouring horn riff, the truest bit of E Street channeling here. After all, I really like "Born To Run" and prime Boss, so why should I care about someone biting it? And honestly, there's more going on than I thought: Springsteen's possibilities of escape closed off – the rat trap doesn't open up again, even when Billy meets Judy. And come to think of it Judy's dreams aren't of getting out of town, they revolve around independence via work in the local factory. Yes, "Rat Trap" is laying it on thick, when even the crossing signals are holding The Kids down, but ridicule is a reasonable trade-off for one of the song's most exciting peaks, the "BILLY TAKE A WALK!" chant.
I still think "Rat Trap" is a mess, overlong and a victim of its own ambition, Geldof trying to cram in every pop trick he's ever heard of. 4 in 5 times when it comes on I get frustrated with it before I've hit halfway: the fifth it catches me in the right mood, and I love its preposterous kitchen sink epic feel – "Hand in her pocket! SHE FINDS FIFTY PEE!!". It's still a mile away from my idea of punk, but it's hard not to feel charitable towards such an eager record.
6
Comments
«
1
…
5
6
7
All
«
1
…
5
6
7
All
Add your comment
Top of page