4
Aug 08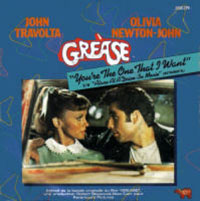 I have never seen Grease. My cultural ignorance is becoming a bit of a theme in these entries, but here at least I had a reason: I hated it. I can't remember when I started hating Grease, or why exactly – incomprehension and resentment, I'd imagine; it was very much music for kids a few years older than me, and in 1978 it was everywhere. I'm sure some of the five and six year olds of today will have an inchoate loathing of High School Musical, its obvious modern comparison point.
So it's literally only in the last week that I've learned that Grease the musical predates the film by six years – forever in pop terms, especially where revivals are concerned. That the musical might have had sharper edges than the film's smash singles reveal. That "You're The One That I Want" comes at the end of the story, even! (Though I could have figured out from the promo clips what the story was – good girls gotta act bad to get bad boys to turn good.)
None of which would have mattered to me: I hated Grease. Even at my most pop-lovin' it was a marker buoy for me – I will go this far and no further. I once walked off a wedding dancefloor in a drunken rage when the (marvellously shonky) "Grease Megamix" was played. I refused to acknowledge the pleasure it brought people. I turned my back on its craft. I looked down the list of No.1s when I started Popular, saw this one, and relished the thought of really slaughtering it.
And now….? I can't work out why on earth I didn't like it. It has the slight misfortune to boss the charts in the middle of a remarkable era for pop, but I was completely unaware of that when my distaste for the song formed. "You're The One" is superbly put-together bubblegum which makes the best use it can of its leads' varied talents – Newton-John's finger-wagging briskness and Travolta's ridiculous cartoon yelp. Marshalled by a bassline of unquenchable jauntiness and enough backing vocals to keep anyone happy, this is very much a song to join in with (it's not as if Travolta's raising the bar that high!). I may never be able to fully come around on it – even irrational hate sinks its hooks deep – but I can enjoy it now and I'm all the better for it: this is populism at its well-turned best.
6
Comments
Add your comment
Top of page