6
Jul 08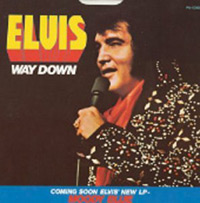 Elvis' first posthumous Number One is like a miniature of his career: a brilliant beginning, a saggy middle, and it ends way too soon. Elvis comes out fighting, swaying and swaggering over a roiling disco boogie – when the brass stabs in on "all of my resistance" it's a genuine thrill. His voice is still iconic: its slurs and mumbles an economical, broadstroke sketch of Presley past, but born of expertise as much as laziness. "Way Down" is let down by its chorus, whose jauntiness sweeps all tension away and whose ending dispels any momentum: the song's components just never really fit together.
And then he's left the building. With the rock'n'roll revival such a force in mainstream seventies pop it's fitting Elvis got his own last word in – and "Way Down" is considerably better than the Showaddywaddy or Stardust efforts we've been through, even if it's a minor entry in the King's own record book. At the time of his death, by all accounts Elvis was a marginal figure – with the right medical care, maybe he'd have had a comeback or two in him. Maybe not.
A strange thing about Elvis Presley is that his figure in decline has become an archetype as strong as his younger self. It can be hard to feel his direct impression on pop, harder the further away we get from the event zero of his emergence, but if he no longer defines pop he still encompasses it. Few began so blazingly, sold out so totally, returned so fiercely, collapsed so gracelessly: Presley anticipates every pop story.
5
Comments
«
1
2
3
All
«
1
2
3
All
Add your comment
Top of page