21
Jul 08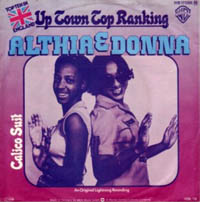 Even a dilettante like me is aware that the late 70s were a storied age for Jamaican music. The flow of talent and money between Kingston and London was starting to open up world markets to reggae, with Marley a superstar and punk drawing social (and increasingly musical) inspiration from roots and dub. In London, the sweeter sound of Lovers Rock was scoring occasional, deathless pop hits. In Jamaica, a fresh generation of MCs and singjays were starting to make waves, men who would become the stars of early dancehall. And in New York, techniques imported by reggae DJs were setting trends in motion that would transform pop's vocabulary.
So far, so historical. And then sneaking past the Kintyre titan for a week in the wintry sun was this, the most wondrous of one-hit wonders. If you want proof of the appeal of "Uptown Top Ranking", try this: I have never once, that I can remember, seen anyone decry it as inauthentic, or sold-out, or frivolous or unrepresentative of Jamaican music. Nobody resents it, in other words. How could they?
The appeal of Althea and Donna is double-edged. Look at the Top Of The Pops performance: two gawky teen girls in their khaki suit an' ting, trying to groove rather than giggle to the house band parping its way through a Joe Gibbs rhythm track. They are adorable, but in that setting not too far away from Baccara – and that's the context which probably pushed "Uptown" from a Top 20 hit to a Number One. God bless novelty, when it gives us this!
On record, though, the girls are significantly blanker, more reserved – cooler than anyone who might be listening. They bite at lines – "seh mi in mi halter back / seh mi give yuh heart attack" – and they hit that zone where awkwardness suddenly morphs into supreme confidence, the telepathic forcefield of front that makes girl-gang pop from the Shangris to Shampoo so irresistable. I used to listen to this thinking "no pop no STYLE" was a dismissal – of whatever grown-ups or squares or bores might be listening. My comprehension might be off, and those enemies might be straw men, but it still sounds like the most joyful put-down on record.
9
Comments
«
1
2
3
All
«
1
2
3
All
Add your comment
Top of page