9
Jun 08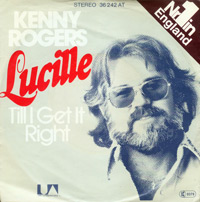 For a long time all I knew of "Lucille" was the mournful swing of its chorus, and it struck me as quintessential country – catchy, corny, sentimental. Listened to in full, though, it's a stranger creature, an uncomfortably unresolved study in being a minor character, the intruder in someone else's drama. Rogers is a barfly with his sights on a pick-up who ends up hearing both Lucille's side of her story and a snatch of her ex's, and is left confused and (literally and metaphorically!) impotent.
Who's the listener meant to sympathise with? Is Lucille untrustworthy? Is her husband's collapse emotional blackmail? I get the feeling Rogers is probably not on Lucille's side, but the songwriting is skilled enough to leave it open, and the impression that lingers is of Rogers' own character, his detachment shaken by fear and doubt.
Unfortunately Rogers' smooth-as-polished-wood delivery can bring out whatever pathos lives in the song, but none of its doubt or darkness, so I have to concentrate pretty hard not to let "Lucille" just wash over me. It's a more interesting song than it seems, but not a better one.
4
Comments
«
1
2
3
All
«
1
2
3
All
Add your comment
Top of page