29
Mar 08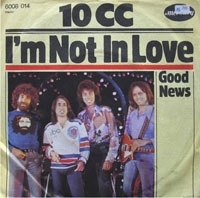 "I'm Not In Love" is 10cc's most famous song, and surely deservedly – it's the one where their smarts crash and fragment on some vicious emotional reefs, which is also what the song's about. So it's a neat (conceptual) package even before you factor in the extraordinary production.
But isn't it all a bit heavy handed? He's not in love (but really he is) – cast your mind back a couple of number ones and wouldn't Tammy or her husband have wrapped that old theme up in two minutes? The greatness of 10cc's song, though, isn't in the theme, its in the exploration of the implicate consequences of repression, of turning your back on love: the saddest moment in a sad song is the satisfaction in the singer's voice when he lays down his stupid law: "Oh, you'll wait a long time for me." This isn't a song about irony, it's a song about crippling emotional phobia. (And the "big boys don't cry" bit, hinting where that phobia comes from, is kind of unsubtle, but no less moving for that.)
The band wrap this song in suffocating gauze: a cold, cossetting synthesised vocal fog with the bare semblance of a beat padding underneath, often puttering out or being smothered completely. No other No.1 sounds quite like it: a brave, thoroughly apt production for a chilling record.
8
Comments
«
1
2
3
All
«
1
2
3
All
Add your comment
Top of page