5
Mar 18
No, not that one, it's okay.  I mean Timothy Thatcher, the wrestling one.  No?  The one with the mean face.  No?  Let's start this story again.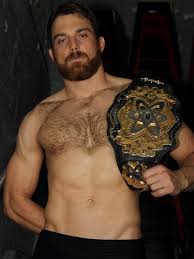 I love professional wrestling.  It can be looked at in so many ways, on so many levels.  It can be gazed upon in childlike wonder as the 8-year olds cheer for the perennial babyface, action figure in hand, head to toe in WWE official merchandise.  It can be a much-needed way to remove oneself from reality for the duration of a match or a 3-hour show, thinking back to the story-lines of the past two months and how this might play out in the run-up to Wrestlemania [points at sign].  You can be a Johnny come lately, beer in hand, cheering "For whoever I fuckin' like – I paid my money."  Or you can take your starting point and … well, just run with it, devouring everything in your path; let it envelope you like a warm blanket or a Yokozuna bearhug, read biography after autobiography, watch Bruiser Brody swing his chain at the terrified fans in Tokyo in the 1980's, laugh out loud at Ric Flair's astonishing backstage promos, obsessively research Andy Kaufman's feud with Jerry Lawler and explore the origins of pro wrestling in the travelling carnivals of America.
You may have guessed which category of fan I fall into and that's why I'm so intrigued by this Thatcher character and what makes this chap tick.

»
More
17
Jul 14
On the 18th June 2014, I took to the stage (a very small stage, but a stage nonetheless) as part of Geek Show Off to publicly declare my love for all things wrestling.  I could have talked for nine minutes on so many aspects of grappling but focussed my attention on another passion of mine: Andy Kaufman. So, here's what I had to say before a sold out London crowd: 28th July 1982 changed professional wrestling forever. That was the day that the undisputed Intergender Wrestling Champion, Andy Kaufman, laid in to the undisputed babyface of the Memphis territory, Jerry 'The King' Lawler, on nationwide American television. 'The Late Show with David Letterman' was drawing 10-15 million viewers in its early years so this was the biggest single event to happen in the world of professional wrestling since 1976 when Muhammed Ali fought Japanese wrestler Antonio Inoki in Tokyo – but that's a whole other story.   However, it seems we've joined this tale mid-way.  Let's go back to the beginning.
»
More