Posts from 13th May 2014
13
May 14
very quickly (since i am DEFINITELY meant to be doing something else: writing a project proposal on quite a fierce deadline), i just wanted to scribble this about HINTERLAND/Y GWYLL. Much anticipated since it first ran last year on SC4 — round the time I was re-visiting that very part of wales with friends — I have been combination drawn to and disappointed by it so far (3 of 4 eps).
(image = beermat snapped in aber pub frequented by student piratemoggy)
1: i love the sheer slowness and sense of the mundane crappiness of much of actual rural life in a superpassingly beautiful landscape
2: i love love love hearing welsh spoken on TV (i grew up close to the welsh border and we visited often: i don't speak it sadly except for a few words — araf! — but the sound of it, esp.mid-wales welsh, is very familiar and comforting to me)
3: the "cabinet of curiosities"/svankmajer/owl service-style weirdness — of abandoned houses, decaying tools, toys etc — is a bit over-amped and mannerist
[3a: total side-issue, the "cabinet of curiosities" has become such a cliche in present-day exhibition-curating circles that at work — where we have to field info about and review many such exhibitions — we have taken to calling it the "cupboard of rubbish"]
4: the lead is over-angsting by factors of ten, but i am enjoying his utterly matter-of-fact crew and their muted exasperation at his unprofessional emo-gothy shenanigans
5: his boss — who does nothing but gaze on everything via TV screens, looking as if he's about to explode over who-knows-what but never doing so — is great
6: the stories have all been a bit "magical land of childhood terrors" so far, though i think many of the minor characters peopling them have been pretty good
7: so it's getting some things right and some things wrong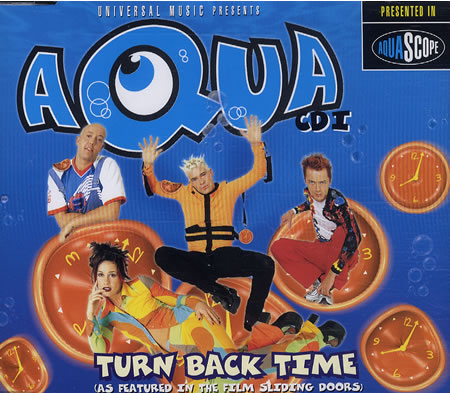 After proving the Aqua formula could work repeatedly, they drop it: "Turn Back Time" is a cryptic, self-hating ballad about choices and dire consequences. In mood it's closer to Madonna's "Live To Tell" than any of the band's own other songs, though it sounds nothing like that. "Turn Back Time" rides a tense, honking Pet Shop Boys sample and is mainly a vehicle for Lena Nystrom's thickly-accented singing. The boys of Aqua are banished to a strictly backing vocals role at the end of the song. The entertaining Rene gets a day off to growl at Copenhagen passers-by.
»
More