Posts from 27th July 2011
27
Jul 11
1961: Are You Sure – The Allisons (video) (lyrics) (Lena's write-up)
1971: Hot Love – T.Rex (video) (lyrics) (Popular entry)
1981: Can You Feel It – The Jacksons (video) (lyrics)
1991: Born Free – Vic Reeves & The Roman Numerals (video) (lyrics)
2001: Dream On – Depeche Mode (video) (lyrics)
2011: E.T. – Katy Perry ft Kanye West (video) (lyrics)
Spotify playlist (all 6 tracks)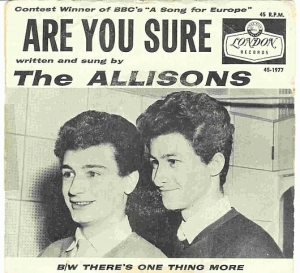 Modelled so closely on the Everly Brothers that they even affected a fictional sibling status, The Allisons followed a career path that became familiar in the 2000s: a TV talent show, a record deal, a chance to represent the UK at Eurovision, a lone hit, and a quick slide from public view. Still, at least their brief star got to shine a little more brightly than Jessica Garlick's, or James Fox's, or Andy Abraham's, as – in accordance with Sixties/Seventies Eurovision custom – "Are You Sure?" finished in second place for the United Kingdom, beaten by the entry from plucky little Luxembourg.
(Eurovision Stats Overload Parenthesis, For Those Who Care: Kathy Kirby and The New Seekers were similarly trounced by France Gall and Vicky Leandros in 1965 and 1972, while Anne-Marie David elbowed Cliff Richard into third place in 1973. It almost goes without saying – but let's say it anyway, because there's nothing the British like more than a decades-old competitive grudge – that none of the victorious acts were actually native to Luxembourg. Poor show, what?)
Having watched The Assassination Of Richard Nixon over the weekend, I can't help but imagine "Are You Sure?" being crooned by Sean Penn's simpering, simmering salesman-turned-killer. For while the track might start with soft, courtly entreaties to the departed lover – "Look here, old thing, are you absolutely positive about all this?" – an increasingly unveiled sense of menace starts to seep through the well-mannered veneer. The tone becomes accusing ("for you're the one who went and broke the vow") and then threatening ("You'll be sorry, wait and see, spend your life in misery"), casting a different complexion on the final iteration of "hold you tightly in my arms". Just how tightly, you flukey fraternal fakes?
»
More