Posts from 5th May 2011
5
May 11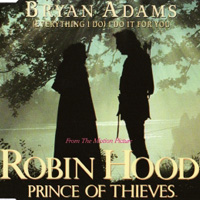 Sixteen Listens For Sixteen Weeks: An Everything I Do Liveblog
This song got to number one for 16 weeks, so I decided to play it 16 times in a row, writing as I went.
Play 1: And we're off. I've honestly hardly heard this in the last twenty years so I don't anticipate the full horror will strike me for a few plays. In case anyone doesn't know why I'm doing this, "Everything I Do" – a soundtrack hit from Robin Hood: Prince Of Thieves – holds the record for the longest consecutive run at Number One in the UK singles chart. At least one other record has come close, a few have threatened to, but this is still the champ. Sixteen weeks. Almost four months.
The record is – oh look, you know this, but anyway – it's a power ballad, slower in fact than I remember. Very weighty. It levels up repeatedly, reaches a climax about two-thirds of the way through, then we have a lingering solo (which I didn't remember at all and have really no desire to hear another fifteen times), a reprise of the pre-chorus and chorus, and that's your lot.
Play 2: So on first go that wasn't so bad! I was 18 when this song was around and I dare say a great deal less amenable to ballads in general and romantic ballads in particular. The song got to number one just after I'd left school – I was spending the summer listening to Bob Dylan and picking fruit for a pittance. "Sad Eyed Lady Of The Lowlands" – now there, I thought, was a love song. I suspect "Everything I Do" might have a rather wider appeal. (Ah – the solo again – now I'm noticing little moans from Bry on it, dear me.) Anyway I hardly noticed this being number one for its first few weeks and certainly bore it no ill will.
»
More