Posts from 20th September 2010
20
Sep 10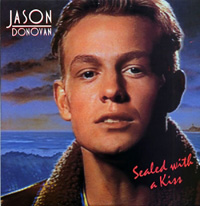 Digging into the earlier versions of "Sealed With A Kiss", I discovered two things. First that I really liked the song, second that it's stretchy enough for nobody to have quite nailed a definitive take on it. It works just as well insincere as sincere, for a start – in the Four Voices' 1960 recording (the first) the doo-woppers sound bereft and spectral, like parting for Summer is some kind of malign destiny and they'll be holidaying in the Underworld this year. But by the time Bobby Vinton's singing it in 1972, he's got the full early-70s luxury pop treatment: bongos, flutes, wah-wah, strings and reeds in a gluttonous, glorious mix, and it makes him sound utterly insincere, like he's phoning his abandoned lady while being rubbed down by hula girls.
»
More
The Lollards return to Resonance FM 104.4's London studio with host Elisha Sessions. He's joined by Alix Campbell, Magnus Anderson and Alex Macpherson for a discussion of KID POP – kids who sing pop and what pop kids like – not really the same category, as we discover (bling-eyed svengalis take note). We hear singles from our panelists, Frank Kogan talks about old television and why people fall out of love with music, we hear 9-year-old Willow Smith's new single and of course we share the hotly anticipated results of the FT kid pop poll with you.
Produced by Elisha Sessions.