Posts from 19th May 2010
19
May 10
First things first: let's see how Round 4 has affected the cumulative scoreboard. I've put positions from the previous round in brackets.
Cumulative scores so far:
1(1) The Eighties – 15.84 points.
2(4) The Nineties – 14.94 points.
3(2) The Teens – 14.24 points.
4(3) The Noughties – 13.96 points.
5(5) The Sixties – 13.59 points.
6(6) The Seventies – 11.44 points.
So it's good news for the Nineties, as "The Power" nudges them up a couple of spaces at the expense of the Teens and the Noughties. The Eighties are holding steady at the top, while the Seventies have a lot of catching up to do.
Eyes down for the Number Sixes, then…
1960: Jimmy Jones – Handy Man (video)
1970: Christie – Yellow River (video) (Tom's post on Popular)
1980: Sky – Toccata (video)
1990: UB40 – Kingston Town (video)
2000: Mandy Moore – Candy (video)
2010: Taio Cruz ft Ke$ha – Dirty Picture (video)

(Download the MP3)

»
More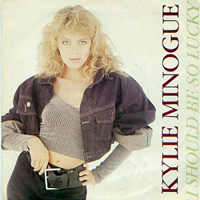 They did their best work before her, and she ended up doing her best after them, but nonetheless Kylie Minogue was Stock Aitken and Waterman's muse: the Dionne Warwick to their Bacharach and David, the Girls Aloud to their Xenomania, the point where their particular vision of pop and its place in the world found definitive expression. They'd worked out the basics – ordinary stars who embodied optimism and hard work, songs that were a distillation of everyday feelings, a pop that arrived quickly and left quickly, that courted its market shamelessly and gave a finger to the rest. But establishing the likes of Big Fun, or even Mel and Kim, with the public still took work. Ordinary wasn't quite enough – people needed stories in their pop. That's what Kylie brought.
»
More