Posts from 13th May 2010
13
May 10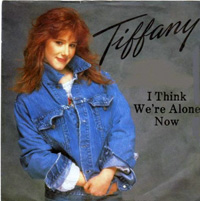 Listening to it now, what strikes me most about "I Think We're Alone Now" is how discofied it is. Its clipped drums and chunky bass synths mean it starts like a low-rent "Always On My Mind", and it looks set to head down a similar hi-NRG path. Only a couple of the very mildest rock touches – that tiny organ flourish leading into the chorus, a very diffident bit of electric guitar over the coda – and its rather sluggish pace divert it.
»
More
Attention Popular readers and disputants: I have a poll coming on!
It is about music writers and music writing throughout ALL OF TIME! If you wish to make nominations in all or any of the categories the details are here.
(Not posted on Popular per se because needn't be just about Chart Music — unless YOU THE INDIVIDUAL VOTER wish to push it in that direction!)
Hullo all! For a project I am working on which I shall reveal soon(ish), I would like your wise suggestions in four categories:
viz
A: music writers all should read (two parts)
B: music writing all should read (two parts)
C: zone of exchange that all should learn from
D: music-related film or documentary all should see
Eventually there will be polls and everything! (Note: this already went up at LJ on Poptimists, so you can also put answers up there if you like. Also read answers. But it has reached that stupid LJ point — 50 replies in — where the thread folds in on itself. Also NOLJies are afeared, I know, and RIGHTLY SO NO DOUBT…
ANYWAY: the four sections above will entail SIX tranches of nomination, as follows…
»
More