Posts from 25th February 2010
25
Feb 10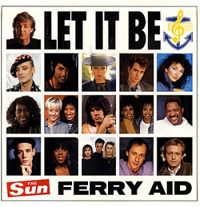 A newspaper is a version of the world, and a successful newspaper builds a world that not only reflects the real one, it infects it. In its 80s heyday The Sun was not only the highest circulation daily paper in Britain, it had a cultural weight that went well beyond that: it comforted its readers and haunted its enemies in the way the Mail does now. The Sun's mix of tub-thumping, scandal, sex, games and coupons might have simply been a variation on a winning tabloid formula that stretched back to the Boer War, but editor Kelvin McKenzie pitched the paper exactly right for its brash, greedy times.
"Let It Be" is The Sun's number one record, its logo proudly on the label and the sleeve. The disaster which sparked the single – a car ferry capsized due to crew negligence, killing 193 people – might not ordinarily have led to a charity record, but several of the dead were Sun readers, on board the Herald Of Free Enterprise because the paper had run a special offer on ferry tickets, away-day breaks to Europe being a reliable sales booster. So the Sun owned the event from start to finish, acting as chief mourner. After the disaster it hit on Stock Aitken and Waterman to produce the record and started working its, and their pop contacts book. Within a week this is what they'd come up with.
»
More
Group F's opener sees Paraguay, managed by Talia, take on Marna's Italy side. Both these teams came bottom of their groups at the last Pop World Cup – while it's probably fair to say pop minnows Paraguay will be looking to enjoy the experience, surely Italy won't be about to repeat their 2006 collapse?
Vote in the poll below the cut – you have until midnight on the 3rd March to pick your favourite.
»
More