Posts from 16th February 2010
16
Feb 10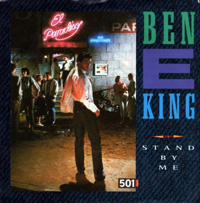 If the Levi's Jeans advertisers counted as a single artist they would have six Number Ones – more than Bowie or Britney, as many as Queen, Rod or Slade. Their biggest successes came as tastemakers picking new music hits in the mid-90s, but prior to that they'd helped push the late 80s soul revival out into the casual singles market, and Ben E King was the biggest beneficiary. In the US the Rob Reiner movie was the main driver of "Stand By Me"'s revival, but in Britain the jeans ad was the deal-maker.
»
More
With much of the attention on the England/USA clash, Group C's second opening game is a fantastic opportunity for Algeria and Slovenia to make a strong opening to their campaign. Algeria is managed by Martin Skidmore, and Slovenia by veteran pop manager Kat Stevens.
Vote away! This match closes at midnight on February 22nd.
»
More