Posts from 2nd February 2010
2
Feb 10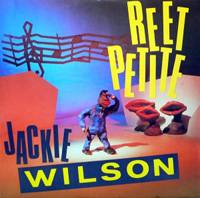 "Reet Petite" would have fit right in on an advert: I scratched my head for a while trying to remember which it came from. No luck – so I went and looked it up, and of course it wasn't on one at all. It got to number one on the back of an animated short – played on BBC arts show Arena – in which a triangle-headed plasticine Jackie shook and jived while mouths on stalks quivered behind him in an angular landscape which reminds me a little of Krazy Kat. As an enactment of the song's pop-eyed restlessness and vocal flexibility it works, and it's more a fan video than an advert. All the giant caricature lips threw me at first but as a sung performance "Reet Petite" is a real celebration of the mouth with all its trills, twists, held notes and squawks of joy.
»
More
The main event.
It was a perishingly cold Saturday night on Mare Street, and the Empire was sold out.
Staff were taking photos of each other, old friends were hugging and saying hello, before saying goodbye. It was the last hurrah for the current staff and management. The gang of mates that had run the place since it rose from the ashes of Mecca Bingo's stewardship in the mid-1980s was getting the heave-ho. But first there would be a show.
»
More