Posts from 27th November 2009
27
Nov 09
Whatever happened to this series? Work happened, and continues to happen. This is the crunch time for about three seperate projects, with a fourth waiting in the wings. Expect forward progress on TMIGEM to be glacial, two a week or less – but it WILL get finished. At some point.
In the meantime, goodbye touring, hello great whacking doses of LSD!
That's not the Beatles, but Beyond, a chirpy Japanese pop combo with some kind of fun fetish. But even they can't get away from the song's central brand – the image of that big yellow sub, made famous by the cartoon – and neither can the Beatlebots, as we'll see in this special warming-up-to-it-again edition.
»
More
Flower Marie
Soft, white-rinded, raw-milk sheep cheese, from Sussex, bought from Neal's Yard Dairy
Flower Marie comes in little brick-like squares. The rind is white with gentle pink tinge, and adorably soft and velvety-furred and strokeable – like a baby animal. The cheese inside's pale and creamy, a touch crumbly in the centre, and sticky – almost liquid – directly under the rind.
It tastes bright and light and salty and fruity, and very rich and creamy. There's just a hint of a herbal, floral flavour, and soft and gentle caramel and nutty flavours. Towards the rind there are hints of mushroom. Overall, it's sweet and rich and mellow, gentle, varied and subtle.
»
More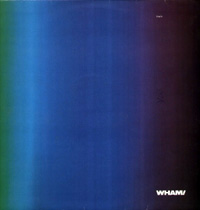 Tempting to give this one the deep consideration G. Michael did when writing it, i.e. none at all. A final Wham! single was required, yes, but "Edge Of Heaven" doesn't round them off in any particularly satisfying way. Instead it rather coldly underlines quite how vestigial Wham! had become to him, as a band and brand. It's another pop-soul pastiche, full of dutiful yeah-yeahing, differentiated from previous Wham! number ones mostly by the bitchin' axe solo that wanders through on its way to someone else's record. It could have been written specifically to fill a gap in a future megamix.
It's not terrible, but there's no fun in it either, and Wham! without the vigour are nothing. "I'm a maniac!" pleads George, followed rather deflatingly by "I'm a doggie barking at your door". In truth he's neither, he's a man marking time until the end of an awkward date.