Posts from 13th November 2009
13
Nov 09
There are loads of good pubs in Borough, right? Well, sort of. The Lord Clyde and Royal Oak are both a bit fiddly to find to non-regulars and don't start me on The George. Would you Trust the National Trust to run a pub? So why The Kings Arms? On a small side street just off of Borough High Street, it is not open weekends or holidays and is pretty poky. And yet in 2008 it felt like I spent half the year in there. And it was a lovely half a year.
Basically The Kings Arms was the nearest decent pub to the Resonance FM studios when we were making the second series of Freaky Trigger and The Lollards Of Pop. So every Tuesday night we would meet for swift pre-show pint, desperately try to plan the show and then reconvene an hour later. Occasionally a few extra members of the team might just wait in the pub for the team to come back. Because The Kings Arms is that classic of a type, a dependable, solid boozer which always had OK ale on, always had pork scratchings and seemed to bring out the best in us.
»
More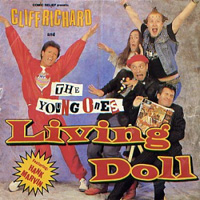 I was absolutely forbidden from watching the first series of The Young Ones, in 1982. I relied on awed playground rumour of its violence and uproar. I was a little scared of it. Second time around, in 1984, I could watch it but not in the living room – only upstairs on our small black and white second set, getting up every five minutes to retune. This time I loved it – what eleven-year-old wouldn't? And then 1986 – a pantomime version of their brutal slapstick, for charity. This time the Young Ones could be on our colour television: the takeover of TV comedy by its "alternative" complete.
»
More