Posts from 13th July 2009
13
Jul 09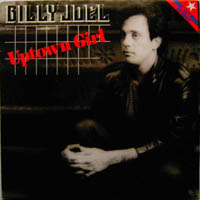 Billy Joel pays tribute to the music of his childhood, and so inevitably there's something childish about "Uptown Girl": its instant singability makes it sound like a Grease outtake, except there was more sex and chemistry in Grease's flirtatious goofery. The street music – doo-wop and rock'n'roll – that "Uptown Girl" draws energy from was able to speak so powerfully to sexual and social codes partly because the act of addressing those codes head-on was itself a breach of them. There's nothing at stake in "Uptown Girl" – how could there be? Rock and roll moved uptown long ago.
»
More
Cheese stats: A raw washed rind sheep's cheese from Corsica.
Bought from: Une Normande à Londres
Tasting conditions: We had a little picnic lunch with this and some fresh baguette.
»
More