Posts from 8th July 2009
8
Jul 09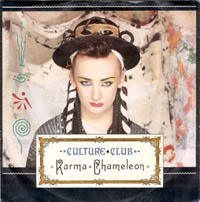 How to sell a contradiction: "Karma Chameleon" is a song about frustration and confusion that consciously transforms itself into colourful frippery, and by doing this it gets its hooks into you even deeper. And such hooks! Though true to the song the very best ones dance around the tune's edges – those little harmonica licks in the chorus, for instance, or the gorgeous middle eight: "Every day is like survival / You're my lover and I'm my rival."
»
More
The battle over the future of pubs is being fought, as we're constantly reminded in the media. You can judge the healthiness of a pub in many ways, but one surely has to be its range of potato products.
Packets of crisps are getting ever more rarefied, as Walkers are forced out from some higher end establishments by competition from Salty Dog, Tyrrell's and some brand that only sells their stuff in little cardboard boxes as I spotted in an East Dulwich pub the other week. You can pay over £1 for some of these brands.
There's also the bowl of chips, which just could be the new battleground in the fight between community boozer and gastropub. One might berate £3 or £3.50 as being simply too much, except that given the escalating price of a pint in many such places, this is generally less than a beer costs. Plus, you can still justifiably consider yourself short-changed if you get scarcely more than a handful.
And now, from a recent visit to the reliably posh White Horse in Parsons Green, the bar has been raised yet again. No triple-fried hand-cut muck for these people. Only the finest "crispy new potatoes" served intermingled with capers and olives.
Though would it be heresy to suggest I liked them? Under £3 and more character than some of the pub's habitués.