Posts from 3rd July 2009
3
Jul 09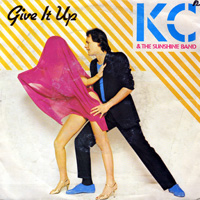 At first listen – and honestly at tenth listen – "Give It Up" seems like another disco carriage clock hit: thanks for all the hard work boys, now have a number one. On the other hand, if you want a splashy summer hit you could do far worse – this is a little rigid and lacking in bottom end perhaps, but full of bright carnival touches. It's a marvellously airy record – good (as I've discovered this week) for clearing the head on a muggy day. The production aesthetic is "salad of all the trebles" – buzzy synths, high rhythm guitar, falsetto and brass all hustling for prominence. KC himself isn't the intense central presence he was on "Please Don't Go" – he's upstaged by the backing singers, whose "Nana-nana-nanananananaNOW!" is the song's most delightful (and enduring) element.
Things I have never really understood.
a) Pies at football
b) People going to the toilet during a movie
Both of these are predicated on the same issue really. Football matches take less than two hours. They take place, usually, in the afternoon – cannily timed between usual meal times. And yet at half time there are queues for the pie stall you cannot believe. You would think they were knocking out tubs of Ambrosia (foor of gods not rice pudding) for the stampede for a piss poor Pukka. Can't you wait or do you have to graze at every opportunity?*
Ditto, films are usually about two hours long. I was taught, post potty training, how to hold it in for at least that long. Perhaps you had a few beers beforehand, perhaps you are drinking a VAT of coke. Perhaps this will add strain but you only have yourself to blame. Nevertheless for NAMBY PAMBIES with peanut sized bladders there is now a useful i-Phone App. Introducing RunPee: an application that tells you the best time in a film to have a wee. HAS IT COME TO THIS?
»
More