Posts from 11th February 2009
11
Feb 09
A quick recap!
This is a series of posts "liveblogging" the Pitchfork 500, reflecting the book's dual purpose as criticism and playlist. The ground rule is that I do the writing in real time as I listen to the music: no edits after that (except of typos). Posts in this series are intermittent, because I don't have a lot of uninterrupted writing time.
Disclaimer: I write regularly for Pitchfork and contributed a dozen pieces to the book. I have no insider knowledge of how tracks were selected, had no say in the selection, and any commentary on the book's purpose etc. is purely speculative.
In this episode: A series of post-punk splinters, conceptual artists make good, and the birth of New Pop
»
More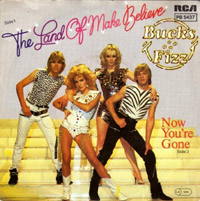 If "The Land Of Make Believe" is – as lyricist Pete Sinfield later claimed – a song about Thatcherism, then he has to be congratulated on one of pop's more thorough veiling jobs. Thing is, the song doesn't need added significance to be a striking and successful lyric: "Something / Nasty in your garden's / Waiting / Patiently till it can have your heart" – strong stuff, especially sung in Bucks Fizz's blandly chipper tones.
»
More