Posts from 7th November 2008
7
Nov 08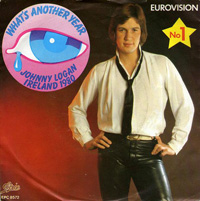 You can see why he won it even before you hear him sing: his side-saddle lounging on the Eurovision stage signalled a more intimate, warmer performance than the Contest had been used to, particularly after the ABBA insurgence. Ballads had always been big; upbeat songs had got even bigger – Logan's mournful poking at crushed hopes was a smart, competitive move.
»
More
Ironically, since I started this mean and low-down project earlier in the week, the quality of PR emails I've got has risen sharply and includes stuff that actually sounds pretty cool, such as Trail Of Our Vinyl, a project looking to uncover the hidden history of Jewish Vinyl, and Freeze Project, a series of snow-made art and sound installations in Alaska.
Speaking of Tumblr, Kat Stevens of BLOG 92 fame has started a video blog there. I've also been incredibly remiss in not linking Rocktimists before now, a collective blog project which looks to combine pop culture, smart analysis and good thinking by a bunch of mostly-British regulars from the ILX message boards. Crazy idea, I know, but it just might work.