Posts from 21st October 2008
21
Oct 08
It's Katie Grocott in the studio this week with Mark Sinker and Elisha Sessions to talk about "Things", written by Ursula Le Guin in 1970. This is a short story about a society sharply divided between nihilist marauders and maudlin do-nothings… and two people who don't really fit in either camp. Oh, and masonry. Music is "To the Sea" by Yello and "Ende Neu" by Einsturzende Neubauten.
Produced by Elisha Sessions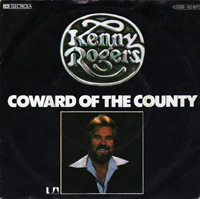 There's a term in comics criticism, "Women in Refrigerators Syndrome". It's applied when the murder, rape, torture or otherwise abuse of a female supporting character provides the impetus for a male hero's character development. This being superhero comics, "character development" and "whuppin' the villain's ass" are generally synonymous. "Coward Of The County" is women-in-refrigerator pop: the hero may have the best of motivations for being yellow, but yellow is what he is, until his girlfriend is gang-raped and he discovers his inner man.
»
More