Posts from 7th October 2008
7
Oct 08
People keep saying how the Keira Knightly film The Duchess has subtle parallels to the life of Our Lady Of The Express, Princess Diana. And yes Keira has the look of the fey Diana about her, there is a love triangle which looks a bit reminiscent of Charles, Di and Camilla and the Duchess Of Devonshire was an ancestor of the sainted one. But this is a much too simplistic view. The real subtext of The Duchess is a tale at the heart of pop music today. Yes, Keira is a representative of Fergie. And not Alex or Our Lady Of The US Talkshow, Sarah Ferguson. Nope, Stacy herself.
»
More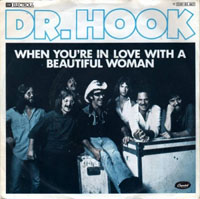 The song may be a standard of sorts, but Dr Hook were one of the acts I came to Popular with very little idea about – kind of bluesy? Rootsy? Definitely rockers – the name summoned vague associations of bike grease and whisky… but then I remembered. I was getting them confused with Dr Feelgood. Of course! How silly of me – I should have known that the smoothies behind "…Beautiful Woman" weren't some kind of gnarly bar band outfit!
And then I saw the video. Oh well.
»
More