Posts from 12th September 2008
12
Sep 08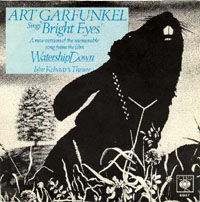 Who wrote "Bright Eyes", and why they wrote it, I don't care. I know, but I don't care. You can talk about all that stuff Because all "Bright Eyes" means for me is this:
»
More
I have a new Pitchfork column up, called "45 Things I Love About Pop", which as titles go is among my more straightforward ones. A lot of what I talk about is helpfully linked to thanks to the wonders of YouTube: this post is designed to sweep up some of the other bits and bobs which that fine site hasn't got. So you get (audio under the cut):
Frankie Goes To Hollywood – "Two Tribes (Carnage)": to be honest I can never remember which Two Tribes remix is which but they're all pretty awesome – well, except Hibakusha with the vomiting noises halfway through.
The JAMS – "Whitney Joins The JAMS": Mission impossible they said!! I think I wrongly credited this to the KLF in my piece.
Thieves – "Unworthy": As also featured in my top 100 songs of the 90s, way back when.
Sabres Of Paradise – "Wilmot": This is the full-length version, not the single/video edit linked to on P4K.
Seeed – "Release": No bogling indie girls, sadly, but here's Seeed at work on the famous 'Cure Riddim'
»
More