Posts from 20th August 2008
20
Aug 08
When I was a kid, I thought the Olympics was just an athletics competition. This was before the red button and us being good at anything that involves sitting down. (Note how many of our medals have been in sports where you get to sit down). No it was runnin', jumpin', throwin' and gettin' told off for doing the javelin' in the back garden with a bamboo cane. That event never went away. But in this Olympics, even a studied Olympic avoider has noticed that the athletics has been played down a touch because we did not expect to win anything. Well we won a few. And we got a silver in the High Jump that we did not expect. How do I know this? All the commentators saying, over and over again as I was trying to hide in another room, that it was truly remarkable. When I finally poked my head around the door it became apparent what exactly it was that was so remarkable. Not our chap being able to jump high but the hubris of his fellow competitors believing they could jump higher.
»
More
during the 2006 winter olympics in turin i developed an overweening and somewhat embarrassing crush on tempestuous skateuse IRINA SLUTSKAYA—she of the apple cheeks, mousy hair and how shall i put this—pleasing thickness that one does not normally associate with ice skaters.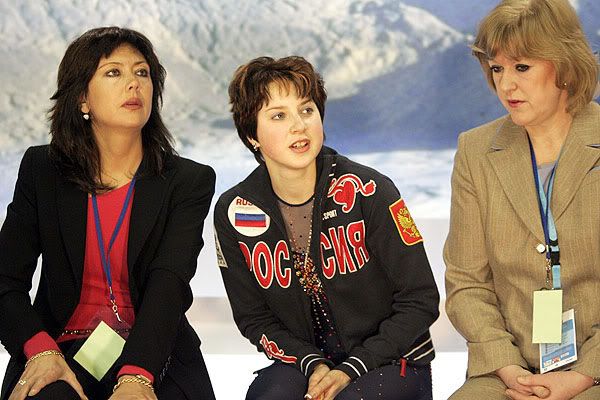 something else one doesn't normally associate with ice skaters is clothes you might actually want to wear yourself. but in 2006 russia had it goin on. their motif was a kind of cross between a paisley shape and a garland (or a zapf dingbat), and when applied to a straight-up indie gas-station attendant vibe i found the russian outfits almost as irresistable as a certain ice skater who wore them. (they also had their own twee mascot, the venerable cheburashka, who may have contributed to a new Olympic trend.)
it's unnecessary to detail the hours i spent trying to track down the hoodie in the above photo. oh i was desperate, had taken leave of my senses. 1/2-inch enamel souvenir pins on ebay with the above garland/paisley design were enough to start me salivating. in the end i forgot about it. but here come the olympics again, taunting me with their inaccessible vestments, reminding me of the ones that got away. it appears that the company which made those russian outfits still have a web site and it's being revamped. a dormant spark of hope flares up. are you out there, boscosport? do you do trackbacks? i'm an easy mark.
In an ordinary Olympic games, Britain racks up 5 or 6 gold medals: this time, we have 16 and counting – marvellous news, incredible work on the part of Team GB, etc etc. But also, in a sense a slightly raw deal for some of the athletes involved, as while the pot of fame and endorsements available to successful Olympians will be bigger than usual, it probably won't be three times as big. Please don't take this the wrong way: I'm not suggesting that fame and fortune is the main reason any of our athletes compete, but it's got to be a nice bonus, and the fact is that following these Games some of our winners are going to end up a lot more famous than others.
It was not ever thus – take Britain's performance at the Barcelona Olympics. Five golds, and four of the athletes involved became more or less household names. But the Beijing mob surely won't fare quite so well: in fact looking at the media you can already see who's being groomed for future stardom (in the British sense of the word, i.e. a comfy berth on a daytime TV sofa whenever needed).
What is the FAME FORMULA for Olympic success? In the grand tradition of bogus equations I give you this:
»
More