Posts from 2nd June 2008
2
Jun 08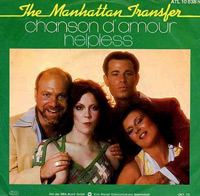 Manhattan Transfer smooth out and slick up Art and Dottie Todd's song to such a degree that it becomes a pastiche of imagined Frenchness – an accordion, bof alors! – as much as a fifties throwback: what's sacrificed in the process is vigour as well as (perhaps imagined) innocence. This "Chanson" may make for a good WTF-bomb as a chart-topper, but it's also as soupy as any of the ballads we've sat through. Part of the problem is the vocalising, just on the edge of enjoyably preposterous with its chawn-sawn and its joooo tadoor, but not quite making it. But the "rat-a-ra-ta-ra" hook is the Crazy Frog nim-nim of its day, so points given just for brazen persistence.
Into the fantabulous knockout stage of Europop 2008 – hosts Switzerland topped Group A, but come up against a steadily improving German side. Click below the cut for track IDs, managerial comment, match reports and previews.
How to vote: Just tick the one you prefer. IMPORTANT – you will only have 3 (or 4) days to vote in each Quarter-Final. This one closes THIS THURSDAY, i.e. 5th June. From now on a simple majority of ticks is needed to progress.
Switzerland v Germany: Which of these tracks do you prefer?
Switzerland: Stefanie Heinzmann 65%

Germany: Junior Boys (Tensnake Remix) 35%

Total Voters: 17

Poll closes: 5 Jun 2008 @ 13:59

Loading ...

»
More