Posts from 16th May 2008
16
May 08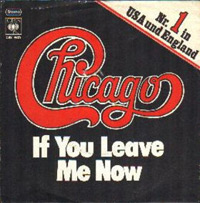 As I gradually learned more about music history it became apparent that there were a bunch of American bands who had enjoyed long careers in the 70s but who were close to invisible here. It seems to me that Britain has never really had an equivalent to the rock radio formats on which Chicago, among others, built a fanbase: individual DJs were left to promote adult-oriented and classic rock, which didn't give dues-paying rock bands the space they had to build large audiences back home. Of course, I didn't listen to radio in the 70s, so I'm happy to be corrected on this.Anyway the upshot is that the career of Chicago seemed (and seems) bizarre to me: literally dozens of albums, most of them doubles (or more!), reduced as far as I was concerned to a single soppy hit which I knew better from karaoke than from ever actually hearing the band's version. And apparently "If You Leave Me Now" is hardly typical of the band's work (to the extent that its success caused serious rifts). In Popular terms, though, it's the first of a bunch of limpidly sincere records we'll be meeting as the British public went ballad crazy.
»
More
We had a lovely night out last night, to celebrate Carsmile Steve's birthday*, in the Ship, a wonderful Fitzrovia tat filled boozer. We've been there before, and as then, and now the key thing to note is that they only have one ale on offer, and that ale is Bass. Bass is a wonderfully historic beer brand in the UK which I have not seen on a pump in the UK for almost ten years. The Red Triangle on the side or outside a pub was one of my earliest remembered pieces of branding**, and Bass were known as much, if not more, for their pub ownership than their beer. Merged, merged, and merged again, this ex-Burton brewer no longer seems to exist. The beer can still be bought abroad, it is the "British Beer" often available on draft in New York. And yet I have not seen it in the UK for ages. Owned now by InBev, the beer is now brewed in the UK by Marston's (back in Burton-Upon-Trent) though Coors own the brand. And in the States our friends at Anheuser-Busch licence and brew it keg style. (As ever thanks to the Wiki).
»
More
it's the time for tying up loose ends, setting projects on the shelf, letting bygones be bygones and preparing to go meet the world. school's out, but not forever — who'd want that? the promise of this escape relies on being secretly ready for the reassuring itchiness of our return.
in the meanwhile we may just allow a blitheness to unsettle our hearts and carry us away to someplace Else. for a space. but before THAT there's the concluding episode of the slug of time radioshow, airing this tuesday on resonance FM at 10pm but quite possibly available as a sneak peek here first, as a thank you to our listener(s).
bon voyage, bon vivants!