Posts from 13th May 2008
13
May 08
Of all the records this admittedly sluggish Top 100 could have stalled on for its longest period, it is odd that it was Teenage Kicks. After all everyone loves Teenage Kicks, right? Tom was toying with writing about it as an adjunct to this Pitchfork article about Peel, but the time came and went (and you can't begrudge him, he is going great guns on Popular). A few other volunteered, to then realise that they couldn't quite put into words what they really wanted to say about TK. And so I will attempt it, after being prompted by the reference made by Tom in this Abba – Dancing Queen article. He (rightly in my opinion) sees Teenage Kicks and Dancing Queen as being cut from the same cloth, a glorious celebration of teenaged energy and abandon. Is that why Teenage Kicks is so good though?
Well yes. That's why it is good. Great even. But SO GOOD? That reason is John Peel. Bear in mind that as the eclectic, all over the place, music loving DJ persona that really crystalised in the 80's, he would constantly be asked a number of questions about his musical taste. And it is odd that we all know his favourite single and favourite album and that NEVER CHANGED in almost twenty years. Trout Mask Replica, and Teenage Kicks. Which perhaps in 1982 as a pairing would have shown considerable pop/rock breadth, but by 2002 could be from the same album (indeed I am sure you can get a Peel sanctioned comp with Kicks and some Beefheart on it).
»
More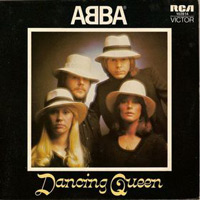 In my teens I read a science fiction novel with a startlingly elegant twist. (I won't mention the book's name in case you come across it yourself.) It was about a brilliant scientist who vanishes: the book's protagonist goes looking for clues to what happened, and becomes close to the scientist's wife. And at a crucial juncture in the plot, the narration shifts, mid-paragraph, from third person to first: the scientist's "vanishing" was literal, and with a thrill of horror you realise he's been observing the action all along.
What on earth does this have to do with "Dancing Queen"?
»
More
Switzerland take on Portugal and the Czechs battle Turkey in the last two Group A games. Click below the cut for managerial comment, analysis, match reports and previews.
How to vote: Pick the track you prefer from each pairing and vote – these polls close next Monday. You will need to click "submit" separately on each one. If you download the tracks please also vote! (We're getting around twice as many downloads as votes currently).