Posts from 9th May 2008
9
May 08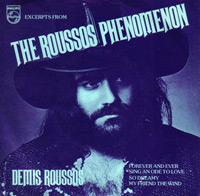 (Special note: I have been unable to find a copy of all four tracks on the EP, so this review is written without having ever heard "So Dreamy". So the mark out of ten is – unusually – subject to change. Though frankly I doubt it will.)
In a wayward year of odd Number Ones, this is one of the rummest. It isn't the sort of thing I'd want to listen to very often, if at all, and if it was typical of the kind of records that top the charts, well, we wouldn't be here. But there are enough intriguing touches on The Roussos Phenomenon to not dismiss it as wholly ridiculous. You are occasionally reminded that yes, this Demis Roussos is the same D.R. who released 666, a prog triple concept album about the Book of Revelation, the year before recording most of this…. slightly more accessible material.
»
More
I decided last year it was time I read some manga, so I set myself a project: read 10 different ones – at least a "book" of each title. Manga have monstered the US comics market: they sell huge amounts, and they sell them to the people who used to buy American comics – kids and teens. I kicked off my project with the best-selling manga ever, Naruto, but I haven't finished a whole book of that. Death Note, on the other hand, I wasn't expecting to enjoy but I ran through a book in a train journey, and ended up sitting up until 2AM reading it on the web. Eventually I had to spoiler the ending in order not to stay up all night. This is significantly thrill-powered stuff.
The plot is pretty simple, though: a gifted high school student finds the Death Note, a notebook with the power to kill at a distance anyone whose real name the user writes in it. He starts using it to kill criminals, which attracts the attention of the police, who call in the world's greatest detective, whose real name is – aha – unknown. Here's why Death Note is good:
»
More
Spain and Sweden both got off to shaky starts in Europop 2008: who will take the points here? Listen to the tracks, vote in the poll, and look below the cut for managerial comment, analysis, match reports and previews.
How to vote: Just tick the one you like best (even if you don't like it much!). This poll closes next Thursday, 15th March.
Spain v Sweden: Which track do you prefer?
Sweden: Lacrosse 61%

Spain: SFDK 39%

Total Voters: 23

Poll closes: 16 May 2008 @ 12:00

Loading ...

»
More