Posts from 29th April 2008
29
Apr 08
Dave Queen joins Mark Sinker and Elisha Sessions to talk about the outrageous 1927 short story "The Red Brain", written by Donald Wandrei when he was supposedly 16 years old. Elisha reads the story at the front of the programme and music comes courtesy of Budgie, Rush and Bad Brains.
Produced by Elisha Sessions
Next – "A Sound of Thunder" by Ray Bradbury
Do you know of anything artistic knocking around at the moment called P1? Maybe a novel, or a collection of poetry. A play, preferably a good one, or maybe one of the English National Opera's experimental jobs at the Young Vic? Why? Well I kind of want, in a male collectorish manner – to collect a full set of P1, P2, P3. And all I'm missing is P1.
Where P-2 is a dodgy two handed horror thriller film coming out this weekend. Staring Rachel Nichols (who I quite liked in Alias), it is a mash-up of a survival horror flick and Die Hard Inna – where the Inna is a parking garage. Level P2 no less hence the name of the film. Whilst I doubt it will be much good, I fancy a slightly brutal horror where the female lead uses her brains to get out of the situation. (And you can't begrudge a film with such an awesomely stupid tagline: "The only thing more terrifying than being alone, is discovering you're not."
And P3 is the new Portishead album.
»
More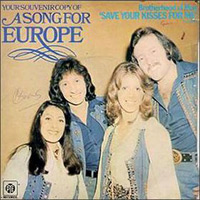 I've argued before that there are no good songs about how lovely small children are: some counter-examples were raised in the comments box, but not many, and this surely wasn't one of them. "Save Your Kisses For Me" is the kind of chirpy material that used to give Eurovision a bad name before the smirkers got hold of it: catchy, but too winsome to really enjoy. I'd point to it as a classic example of cynical Britain fobbing off any old rubbish on the song contest, except Brotherhood of Man actually won the thing. Especially heinous elements: the root-i-toot toy trumpet riff, the persistent triangle accompaniment, the "awwww" final chords after the twist. THE TWIST. Path to redemption: the opening irresistibly reminds me of "Mother's Little Helper".
omg – best book cover ever designed??
i mean, aside from the fact that dashiell hammett never wrote a story called "the red brain". a little misleading, that! anyhow, tonight's episode of slugs and stars features the 1927 title story – which was already WELL retro by the time this book came out (1965)
via this excellent, high quality collection of old paperback covers: http://www.flickr.com/photos/calenture/