Posts from 22nd April 2008
22
Apr 08
Martin Skidmore joins Mark Sinker and Elisha Sessions to discuss the first space-travel story of the series, and the first truly obscure find, "Beyond the Reach of Storms" by Donald Malcolm. As always, Elisha reads excerpts at the front of the programme. Music includes "Firekeeper" by Red Planet.
Produced by Elisha Sessions
Next – "The Red Brain" by Donald Wandrei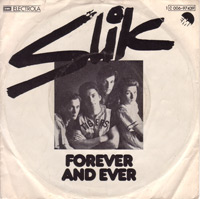 Midge Ure is one of those pop figures who joins a bunch of dots, perhaps to a greater degree than his observed talent might suggest. From this boy band to New Pop to the charity records boom, via a tangential role (and almost much more than that, if he's to be believed) in the Pistols story – he's been around. That's all to come: here and now he's in Slik, chasing the last of the rollerbux with this preposterous and almost fantastic record.
»
More