Posts from 17th April 2008
17
Apr 08
The first in what will be a regular run of reader participation features – one each time we reach the end of a year.
As you know, I give a mark out of 10 to each track. The rough expectation, over the course of 56+ years of #s, is that the number I give 1-5 to will roughly equal the number I give 6-10 to – but we will see. ANYWAY, at the end of every year I'm going to run a poll (below the cut) so you can have your say. All you have to do is vote for the ones you would have given 6 or more to (by whatever criteria you yourself would choose).
In other words – tick the ones you like! And, if you want, use the comments box for more general thoughts on the year and its qualities – what the list reflected, what it missed, and so on.
»
More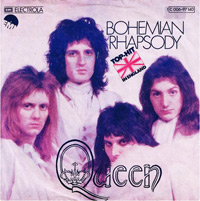 There is a pub in North London called The Swimmer At The Grafton Arms. It prides itself on well-kept beer and a well-kept jukebox, the latter with an deeply tasteful selection of fine rock and soul music. I haven't visited for a couple of years, but it used to have, on this jukebox, a Queen Greatest Hits CD. And next to Track One on this CD, "Bohemian Rhapsody", was the handwritten instruction: "DO NOT PLAY. NOT FUNNY."
For me, that kind of sums up "Bohemian Rhapsody"'s very weird place in rock music. It is known by millions, loved by millions, but somehow still not quite….respectable.
»
More