Posts from 15th April 2008
15
Apr 08
Alan Trewartha joins Mark Sinker and Elisha Sessions to discuss "Segregationist", one of Isaac Asimov's famous robot stories from 1967. Music includes "Nobody Loves a Computer Because a Computer Does Not Dance", by Computer. Elisha reads from the story in case you haven't.
Next week – "Beyond the Reach of Storms" by Donald Malcolm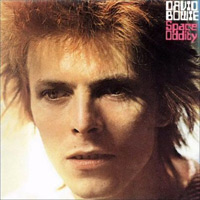 First of all, I was a daydreamy type of boy, and this song should really get a mark or so docked in petty revenge for the several teachers who used "Ground control to Major Tom!" type gags to get my classroom attention. If this seems unfair, just be glad the Dallas theme tune didn't get to #1.
At the time, I don't think I'd ever even heard "Space Oddity". My first memory of it was on a school trip to Wales, where I initially thought "Oh so THIS is what all that was about", and then I thought, "How mean that Major Tom dies!". I became a huge Bowie fan a couple of years later but still skipped "Space Oddity" more often than not. So my appreciation of it has always been tinted a little – well, yes, obviously this is an excellent record but…. but…. and the buts never resolve into anything you could defend, but they don't help you love the song either.
»
More