Posts from 9th April 2008
9
Apr 08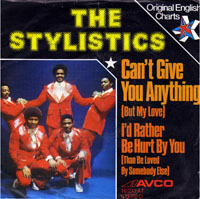 For a song about a guy with empty pockets, this certainly sounds opulent! But its largesse of strings and brass is a little too showy, too ostentatious, at least compared to the understated richness of the sound the Stylistics achieved with Thom Bell. Even if this bling might be fake, "I Can't Give You Anything…" is a fine record: Russell Thompkins Jr's falsetto is as strong and lovely as ever – though sometimes he's having to fight the turbulent backing when he could be soaring over something more sympathetic. That backing, by itself, is also good – arranger Van McCoy taking his delightful horn rhythms from "The Hustle" and beefing them up. The record ends up an intriguing and enjoyable mismatch, still slightly less than the sum of its high-quality parts.
Tom Ewing joins Mark Sinker and Elisha Sessions to discuss Fritz Leiber's "A Pail of Air", written in 1951. It's a short story about a kid, some rugs, and an Earth so cold that helium crawls. Will it crawl onto YOU? Elisha reads from the story in case you haven't.
Next week: Isaac Asimov – "Segregationist".
Some bonus download material for you: and visit poptimists.muxtape.com to hear all twelve of the Pop Open Round 3 songs.