Posts from 21st February 2008
21
Feb 08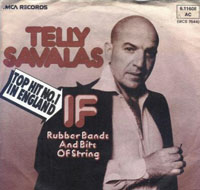 Bread's closing vision of cosmic apocalypse is curious enough to begin with and becomes frankly sinister in Telly's hands: "and when the world was through…MMMMMM." Savalas as the angel of death: a terrifying and somehow believable prospect. As for the rest of this, Tel's burnished tones suit the gloopy material well and the record has an oddly narcotic effect – anyone who's encountered a self-hypnosis tape will be familiar with this 'genre' though when the spell is broken I'm more than happy to hear almost anything else.
Bonus track from nu teenpop debut.
In 2006, in tandem with the FIFA World Cup, the Poptimists community on LiveJournal ran the Pop World Cup game, and a great success it was too.
This year, of course, it's Euro 2008. I have just been reading up on the two mascots, Trix and Flix, and on the official Euro 2008 Slogan, "Expect Emotions". So clearly it's time to do it all over again with Europop 2008, which this time will run on Freaky Trigger – meaning Poptimists won't be clogged up with posts about the game and meaning we might get an even wider voting and playing base. Our slogan? EXPECT EMO.
But just what is this game, anyway? It's very simple:
»
More