Posts from 24th September 2006
24
Sep 06
Within Gainsbourg's career this sounds to me like a stopping point between the sharp pop songs he was writing for himself and others in the 60s and the more drawn-out, high-concept records he made in the 70s: "Je T'Aime"s bass-heavy langour could be a practise run for bits of 1971's terrific Histoire De Melody Nelson. If it wasn't for the bass, in fact, "Je T'Aime" would be a pretty dire record – neither the somewhat prissy string arrangement or the soft-focus blur of the organ have aged that well, but the bass makes the song work as an insistent slow dance.
»
More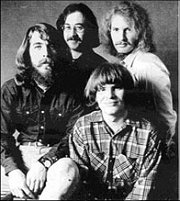 One of rock's jauntier doomsdays, a feeling solidified for me by its status of party fixture on my college bar jukebox. Jaunty doesn't always mean friendly, though. Creedence keep things brisk, lean and simple, and there's only a touch of wildness in John Fogerty's voice. "Bad Moon Rising" has no patience for melodrama, and this cold matter-of-factness is its strength: Fogerty and his boys know what's coming and sound ready for it – they're just passing the word on to you, and leaving you to deal with it as you can.
Clerks II is Clerks ten years later. The plot is that in the interim period our two Clerks have moved on to working in a Burger restaurant when their convenience store burned down. The usual scatological and barely cogent pratfalls take place, with the end to our now thirty something heroes taking control of their lives, buying the convenience store and reopening it. Its all about reclaiming lost glories even if those glories are not very good.
»
More