Posts from 9th April 2005
9
Apr 05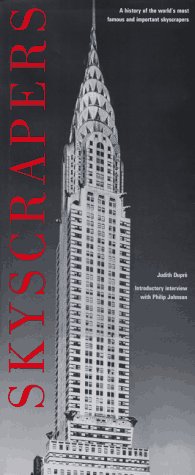 This strikes me as a superb example of bookmaking. The book is taller by about 50% than my next largest books (other large art books, their maximum normal size), but narrow. If you stood the two biggest hardback novels you own, one on top of the other, you'll get the idea. The scheme is a spread for each of 50 notable skyscrapers (there are some other articles, with text in white on dark to distinguish them), the left hand page of which is given over to a single photo, generally superb, with either a quote from the architect or some famous person, or a single small inset image the only intrusion. On the right we have:
a title header;
a prominent bar of the bare facts – name, architect, height, dates and so on;
a few small images – a wider context view, a photo of the architect, a shot of the structure in progress, an architectural drawing or plan, a close-up of a detail, a pic of something the building references or whatever;
captions for each image, often paragraph-length;
the main text, describing how it came to be built and its design, telling us a bit about its architects and clients (the one really terrible part here is the tragically outdated WTC piece, which could hardly be more unfortunate);
the odd quotation, as on the main images (the one drawback is that sometimes these are too general, not really relevant, and you know they just couldn't resist a semi-related line because it's from, say, Hemingway);
a little set of silhouettes at the bottom of the page, grey for the comparisons (Sears Tower, Empire State Building, Eiffel Tower), black for the building we are looking at;
finally, at the bottom right, a tiny drawing of the building. This can act as an identifier for quick searches. I did try treating it as a flicker-book, illustrating the evolution of the skyscraper, but it was rubbish for that.
I think the writing is a bit dull, and occasionally you can get lost in clauses multiplied to no great purpose, and it's rather too US dominated (I mean, I know any such book has to centre on America, but there is room for debate as to exactly how much), and misses out some I'd like to see there – possibly because of a not unreasonable fetish for height records, but it looks fabulous (and I found it cheap, so you might be able to as well). What more could you want from a coffee table book? If you have a long, thin coffee table, anyway.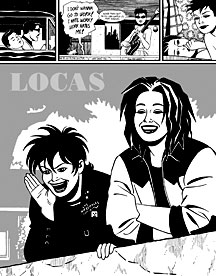 I reviewed brother Gilbert's Palomar volume a while back, and I've just read this: a 700-page collection of all Jaime's Maggie-related strips from Love & Rockets. And I'm struggling with what I want to say.
I adore the first third, but I think it declines a lot afterwards. Trouble is, I'm not sure how much that's an objective view. I think there are clear problems with that: the sheer number of supporting characters, like a whole new cast that Jaime introduces every fifty pages, then drops in favour of another crowd. This doesn't help build an attachment, which is sad after the stories and characters were so strong and moving up to then (and still intermittently afterwards). His art loses something too: you see a reduction of detail from the beginning story through a greater clarity, the strength of line only catching up a little later, but towards the end we lose a lot of force and weight, and a lot of it looks lazy. Since the peak period for the drawing – and what a peak! Some of the loveliest and most effective comic art ever – covers maybe half the book, starting something like 100 pages in, this doesn't fully explain my dissatisfaction, which starts much earlier.
Another thing we lose as the strip goes on is the sense of ordinary lives in an extraordinary world. I really liked seeing ordinary lives in poor Latino California, with the odd glimpse of a wider world with robots, dinosaurs, rocket ships and superbeings, and while that is never repudiated as it becomes much more like a straight soap, it does fade more and more into the background.
But mostly it's down to emotion. Like thousands of other comic fans, I pretty much fell in love with Maggie and Hopey from the moment I started reading this. There they are on the covers together – but inside they separate a third of the way in, and stay apart for over 400 pages. It frustrated me, and I could never entirely believe in the lack of effort at getting in touch again all through this time, and I could never care as much about either alone than I could when they were together (and we see very little of Hopey for big sections of the book). If you didn't feel this way about them, maybe this won't trouble you as much, but I'd be surprised if anyone thought that the final third came close to its earlier prime.