6
Jul 11
1961: Theme From Dixie – Duane Eddy (video)
1971: (Where Do I Begin) Love Story – Andy Williams (video) (lyrics)
1981: Night Games – Graham Bonnet (video) (lyrics)
1991: The Whole Of The Moon – The Waterboys (video) (lyrics)
2001: It Wasn't Me – Shaggy ft Rikrok (video) (lyrics)
2011: Guilt – Nero (video) (lyrics)
Spotify playlist (all 6 tracks)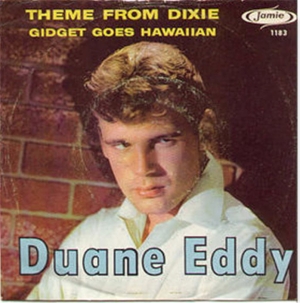 It's a tenuous segue, but what the heck: just as the last round closed with a martial rhythm (of sorts, at least), so this round opens with one. And there the similarities end, as we switch from the fully contemporary to a song that dates from the middle of the 19th century. Not being au fait with the American minstrel tradition, my only prior exposure to "Dixie" was as a part of Elvis Presley's funereally paced "American Trilogy", so the chirpiness of Duane Eddy's version was initially startling – but despite its lyrical pining, this was traditionally a cheerfully rendered tune, and so Eddy takes fewer liberties with it than I had thought.
The track's first half sticks fairly faithfully to Eddy's "man with the twang" template, reminding me of the influence that he exerted on Hank Marvin's playing style, and the combined influence of both players on the rock guitar heroes that would follow in their wake. (This stuff might sound corny now, but if you were a suburban bedroom musician with no access to the cooler stuff – your Hookers, your Wrays – then Hank and Duane on the Light Programme might well have been your beacons.) But during the second half, things start to go a bit loopy, as if the whole studio has suddenly slid into devil-may-care drunkenness: hollered yee-haas, a yakety sax, a half-mumbled lyrical fragment, a demented, almost parodic diva. It all leaves me wondering how much of this madness can be laid at the door of Eddy's long-time collaborator, the late Lee Hazlewood. (Ah, NOW you're interested!)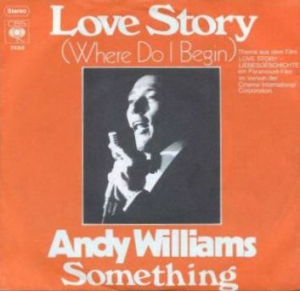 As he's one of the few artists ever to have graced my dad's in-car 8-track cartridge player during the early 1970s (along with The Carpenters, Simon & Garfunkel and, er, Mario Lanza), I have always had a soft spot for Andy Williams. A couple of years ago, just before he shuffled off to Branson, Missouri in perpetuity (the traditional retirement community for showbiz troupers; Ray Stevens packs 'em in there), I saw the man perform the last ever date of his last ever international tour. Then aged 79, his first vocal cracks were starting to show – but all came good for a staggering rendition of MacArthur Park, which showed surprising boldness for an artist whose habitual role has been to offer reassurance and comfort.
There's not a whole heap of comfort to be found in "Where Do I Begin", though – at least not if you knew its back story, as did most listeners in 1971. Originally the instrumental theme tune of Love Story, which had been THE big weepie of the previous year (spoiler: Ali McGraw dies!), lyrics were added posthumously to the track, turning it into a pledge of romantic loyalty that both the singer and the audience already knew was doomed to meet a tragic end. Hey presto, instant poignancy.
Despite its pretty tune, this was never one of my favourite Williams tracks – and I speak as someone who listened to his Greatest Hits 8-track at least twice a week for at least two years on the weekday morning school run, so it had plenty of time to ingratiate itself. I prefer Williams when he unstiffens and starts to swing – and speaking as someone who has watched the McGraw death scene in a room of bawling sisters, mindful of the need to respect their ersatz grief, I never rated Love Story much, either.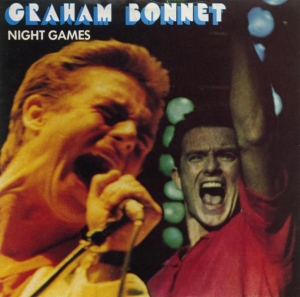 Fresh from a two-year stint in Ritchie Blackmore's Rainbow, Graham Bonnet briefly reactivated his solo career before joining the Michael Schenker Group in 1982. Three years earlier, he had topped the Australian charts with "Warm Ride", a Bee Gees song that had been omitted from the Saturday Night Fever soundtrack. But having swapped watered-down disco for watered-down metal (not there's anything wrong with either; you can't argue with "Since You Been Gone"), Bonnet wasn't about to switch back. Cue the suburbanite slaverings of "Night Games", in which our "man in the busy street" joins our "lady in the library" in the mysterious "house of sin", where readies are exchanged for "games OF THE NIGHT".
(Ah, that none-more-Eighties suffix: see also Kiss/Laura Branigan (creatures OF THE NIGHT), DeBarge (rhythm OF THE NIGHT), Sam Fox (spirit OF THE NIGHT) and many more.)
Trouble is: once you start hearing "house of sin" as "house of Cyn", the erotic edifice does begin to crumble (do they pay for their pleasures with LUNCHEON VOUCHERS?), only to topple further once you suspect that the lead menu item is, um, SEXY SNOOKER. ("Always play one last frame; it says in the rules!")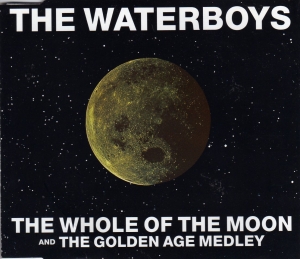 Those of you with memories that stretch back two whole months (for yes, I have been on an extended "Blocked By Bonnet" hiatus, and let us speak of it no more) will recall my banning of Tracy Chapman's "Fast Car" from the 2011 chart, on the grounds that reissues skew the samples. In which case, you might have some justification in quibbling the inclusion of a reissued 1985 single from The Waterboys in the chart of 1991. To which I say: ah, BUT: six years is less than a full decade, and "The Whole Of The Moon" felt connected to pop in 1991, in a way that "Fast Car" doesn't in 2011.
(I was THERE, man. I did the PARTY TAPES. All of which HAD to include something by The Waterboys and something by The Clash, in order to placate the miserable ex-punks who poo-poohed house.)
As with more of these old hits than I care to mention, I had never given "The Whole Of The Moon" my full attention before now – and despite my habitual genre-adversity towards Big And Important Celtic Chest Thumpers, I am minded to grant it a reprieve, on the grounds that the Bigness And Importance of the track is a justifiable fit for the theme of the song. For if Mike Scott is going to make a series of comparisons between his own aspirations/achievements and the grander, more ambitious, more over-arching visions of his unnamed damaged-genius-hero figure (some say it's C.S. Lewis, but Syd Barrett would fit just as well and Scott says it's a composite anyway), then it's as well that he does so over a questing quasi-martial march which becomes more vaingloriously florid as the track progresses.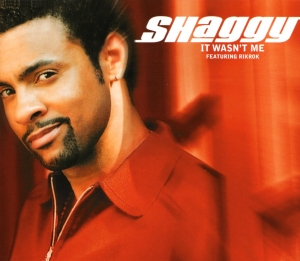 Hey ho, we're back to fucking. Although credited to Shaggy featuring Rikrok, it's the guest turn who does all the work here, his host confining himself to a couple of toasted verses and endless re-iterations of the track title.
It's lazy but it works, casting Rikrok as the cheater who got caught on the job, now desperately seeking dubious scraps of relationship advice from the magisterially absent MISTAH LOVAH LOVAH himself. Thus the track title becomes a prompt, muttered in Rikrok's ear as he fretfully reviews the case for the prosecution, while the rest of Shaggy's counsel essentially boils down to "chill out/man up/stand your ground/lie through your teeth".
Rikrok does man up before the song is through, but not as directed. Resolving to apologise to his wronged woman, he spurns his mentor and provider (never devalue the worth of a "ft.") with new-found clarity. ("You may think that you're a player, but you're completely lost.") And so, and despite appearances to the contrary, "It Wasn't Me" turns out to be more than cheery braggadocio about "banging on the bathroom floor" (although to be fair, there's quite a bit of bragging to be had), revealing itself to be quite the morality tale after all.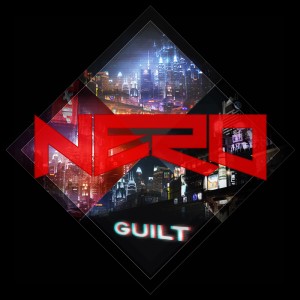 In stark and immediate contrast with the jokey breeziness of Shaggy and Rikrok's take on infidelity, Nero offer – through the cavernous medium of Stadium Dubstep, with lingering echoes of Stadium Trance – a darker, more accusing riposte, this time from a woman's perspective. ("Sometimes I feel you should be crawling back to me" / "The guilt you hide will come between us after all")
This might have worked better if a) the eight lines of the song weren't endlessly repeated, in the time-honoured and perfunctory Dance Anthem tradition and b) the video wasn't all about pole dancers.
OK, you've waited long enough! The voting box is open, and the usual rules apply. My apologies for the delay (I'm blaming my block on Bonnet) and my particular thanks to Erithian, for his friendly and supportive nudges.
Comments
«
1
2
All
«
1
2
All
Add your comment
Top of page