27
Jul 11
1961: Are You Sure – The Allisons (video) (lyrics) (Lena's write-up)
1971: Hot Love – T.Rex (video) (lyrics) (Popular entry)
1981: Can You Feel It – The Jacksons (video) (lyrics)
1991: Born Free – Vic Reeves & The Roman Numerals (video) (lyrics)
2001: Dream On – Depeche Mode (video) (lyrics)
2011: E.T. – Katy Perry ft Kanye West (video) (lyrics)
Spotify playlist (all 6 tracks)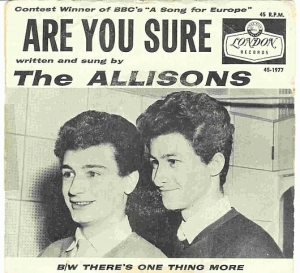 Modelled so closely on the Everly Brothers that they even affected a fictional sibling status, The Allisons followed a career path that became familiar in the 2000s: a TV talent show, a record deal, a chance to represent the UK at Eurovision, a lone hit, and a quick slide from public view. Still, at least their brief star got to shine a little more brightly than Jessica Garlick's, or James Fox's, or Andy Abraham's, as – in accordance with Sixties/Seventies Eurovision custom – "Are You Sure?" finished in second place for the United Kingdom, beaten by the entry from plucky little Luxembourg.
(Eurovision Stats Overload Parenthesis, For Those Who Care: Kathy Kirby and The New Seekers were similarly trounced by France Gall and Vicky Leandros in 1965 and 1972, while Anne-Marie David elbowed Cliff Richard into third place in 1973. It almost goes without saying – but let's say it anyway, because there's nothing the British like more than a decades-old competitive grudge – that none of the victorious acts were actually native to Luxembourg. Poor show, what?)
Having watched The Assassination Of Richard Nixon over the weekend, I can't help but imagine "Are You Sure?" being crooned by Sean Penn's simpering, simmering salesman-turned-killer. For while the track might start with soft, courtly entreaties to the departed lover – "Look here, old thing, are you absolutely positive about all this?" – an increasingly unveiled sense of menace starts to seep through the well-mannered veneer. The tone becomes accusing ("for you're the one who went and broke the vow") and then threatening ("You'll be sorry, wait and see, spend your life in misery"), casting a different complexion on the final iteration of "hold you tightly in my arms". Just how tightly, you flukey fraternal fakes?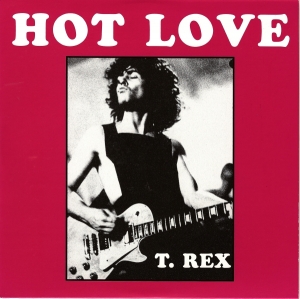 And so we move to the most influential single to have appeared in this year's Which Decade thus far. Boosting a standard shuffle blues rhythm with brutal wallop and clout, T.Rex set the template for British glam rock, birthing a beat that would re-surface time and again over the next three years: Son Of My Father, Rock And Roll Part 2, Blockbuster, The Jean Genie. And by trading Blakeian hippy mysticism for Lear-esque bubblegum whimsy, Marc Bolan ditched an older audience for a younger one – leading the charge, while offering a cooler, sparklier, more richly imaginative alternative to your Co-Cos and your Chirpy Chirpys.
To my nine-year old self, "Hot Love" had it all. A sonic representation of silver and gold, its playground verses bore endless repetition, as did its endless everybody-join-in coda (less self-consciously forced than "Hey Jude", and accented with a cavernous stomp that Slade would soon make their own). Even the band name thrilled me: T.Rex, big like a dinosaur! I loved dinosaurs!
This summer, at the Lovebox festival in London's Victoria Park, in a set which inevitably featured his cover of Bolan's widow's best known song, another Marc exhumed it. He must have been smitten too. We all smiled; we all boogied. I'm giving it six.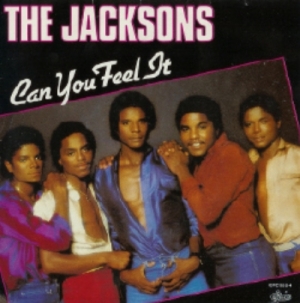 The Jacksons may not have been big like dinosaurs – although Michael was on his way – but in the immediate aftermath of the disco era, they needed to avoid extinction. Cue "Can You Feel It", the opening track on Triumph, in which disco's lightness and romance was replaced with a stiff, maximalist march, bearing an overtly anthemic, Utopian message. Michael co-wrote the song, and perhaps it's here that we find the first manifestations of his burgeoning emperor/messiah complex; the Ruritanian epaulettes and tassles would follow, as would the Heal The Worlds and the Earth Songs.
"Can You Feel It" flopped in the States, perhaps partly due to its genre unorthodoxy, in a segmented pre-MTV world that didn't quite know which box to put it in. In Europe, where boxes mattered less, it fared much better, giving the group their penultimate Top Ten hit in the UK. Seventeen years later, The Tamperer would sample it, subvert it and smuggle it to Number One. Unmoved by its rhythmic clumpiness, and unstirred by its lyrical platitudes, its appeal has always been lost on me. I suspect that's also box-related.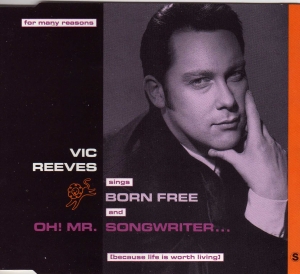 As Vic Reeves was discussed on Popular just two months ago, there's little to add when it comes to examining the hit which preceded "Dizzy": a cover of Matt Monro and John Barry's Oscar-winning theme song for a film about an adopted lion cub, mashed up with elements of Shuggie Otis's "Strawberry Letter 23" (better known in its cover version by The Brothers Johnson).
Reeves plays it fairly straight here, avoiding the temptation to ham it up in his trademark "Northern club singer" style – but he also stops several yards short of sincerity, opting instead for a Mike Flowers-prefiguring pastiche. Thus "you" becomes "ye", now rhyming with "free", and Monroe's "the world still astounds you, it's time you looked at a star" becomes "the world still astounds ye, each time he looks at a car".
A clue to the "star/car" switch comes during Reeves' megaphoned voiceover section. This starts as some sort of mini-Wikipedia entry, before Reeves turns his mockery directly onto Monro. Not only is Monro, ho ho, a former bus driver (and hence astounded by cars, and even incapable of art?), but Reeves also claims – or rather his comedy persona claims – to be the better singer. Reeves' subversive intent is then hammered home in the last lines, which riff on differing interpretations of the word "free" to allegedly comic effect.
I say "allegedly" because, as with much of Reeves' work, any playfulness in the surrealism is – for me – smothered by the smugness, leaving me poker-faced and mildly irritated. Sure, he and Bob Mortimer got the laughs – but the laughter always felt cliquey, a collective "yeah, we're clever enough to get it", underpinned by a certain measure of "actually, we don't get it, but we'd die rather than admit it to our peer group". Oh, enough! This was supposed to be a short one!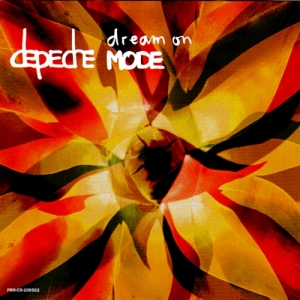 By 2001, Depeche Mode's Dave Gahan had long since conquered the addictions which nearly killed him five years earlier (insert poignant Winehouse comparison here). If it wasn't for the fact that Martin Gore wrote it, "Dream On" would therefore read as the personal testament of a rehabilitated survivor, recalling both the physical horror and the emotional alienation of his former, half-lived life. Perhaps that was Gore's aim, and perhaps that makes "Dream On" some sort of oblique scold. Or, as seems more likely, it's an empathetically drawn portrayal: part atonement, part warning.
As with many Depeche singles, which slip in and out of the charts so quickly that I never pay them much heed, "Dream On" forces me to give overdue respect to a band whose prolonged success mostly baffles me (at least when I give matter any thought, which is rarely). It's a restless, skittering thing, in which Mark Bell's production strikes the right balance of sparseness and detail, and Gahan's theatrical tendencies are wisely reined in.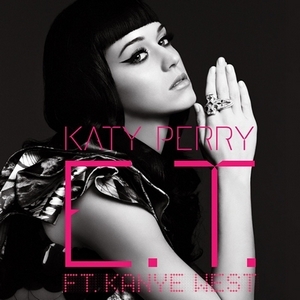 Halfway through her show at Nottingham Arena this March, Katy Perry left the stage for one of God-knows-how-many costume changes. On returning, she excitedly told us of the news that she had just received offstage: that "E.T." had reached Number One in the Billboard charts. It was Perry's one moment of true emotion, in a show that, while impressive in many ways, was marred by the hollow-eyed neutrality of its star performer. And this is the problem that I have with her: that for all the cleverness and wit that she has invested in her pop persona, her core self remains curiously absent. She's a hoofer, a trouper, a gifted show pony, and she's made some able pop moves – but I could never love her like Gaga or like Kylie, because she never drops her guard.
As for "E.T." in particular, my least favourite of her hits, it feels fitting to hand over to the late Martin Skidmore – a man who I only met once, although Tom's tribute makes me wish I'd got to know him better – who had this to say about it on The Singles Jukebox.
This Luke/Martin number is kind of like "We Will Rock You" with a bit of "All The Things She Said", with Katy droning on about loving an alien, and with a heavily autotuned Kanye playing that role. I suppose it's less obviously catchpenny than her usual, what with being darker and having no big hook or anything, but she still doesn't interest me at all.
It's scoreboard time. As predicted in the last round, Diana Ross has lifted the Seventies off the bottom of the pile – but the Nineties hold onto their lead, albeit with a much narrower gap (you can blame Zucchero for that). The last round's positions are in brackets.
1 (1) The Nineties (16.27)
2 (2) The Sixties (15.73)
3 (4) The Eighties (14.57)
4 (3) The Teens (13.92)
5 (6) The Seventies (12.56)
6 (5) The Noughties (10.95)
Assuming that you all love "Hot Love" as much as I do, I'm expecting another climb for the Seventies – but beyond that, I'd say the field was fairly open. What say you, voters?
Comments
1
2
»
All
1
2
»
All
Add your comment
Top of page