10
May 11
1961: African Waltz – Johnny Dankworth (video)
1971: Something Old Something New – The Fantastics (video) (lyrics)
1981: Einstein A Go-Go – Landscape (video) (lyrics)
1991: Get The Message – Electronic (video) (lyrics)
2001: Clint Eastwood – Gorillaz (video) (lyrics)
2011: Run The World (Girls) – Beyonce (video) (lyrics)
Spotify playlist (all 6 tracks)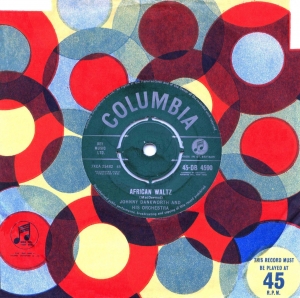 If Johnny Dankworth's aim was to conjure up some sort of recognisably "African" flavour with this track (better known to American audiences in its Grammy Award-winning cover version by Cannonball Adderley), then fifty years of shifting cultural signifiers have made it hard to divine his intentions. There's barely anything here which suggests "Africa" to contemporary ears, barring a certain skulking-through-the-souk "imaginary soundtrack" quality (with attendant premonitions of Barry Adamson) which might conceivably place it on the continent's northern shores. But then again, its Canadian composer (Galt MacDermot, who went on to write the music for Hair six years later) was a scholar of African music who graduated from Cape Town university, so what do I know?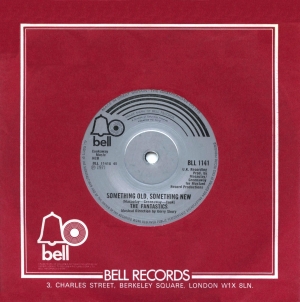 Having traded as The Velours since 1956 – with some decent doo-wop releases to their name – this presumably down-on-their-luck vocal harmony group made a decision to move from Brooklyn to the UK in 1968, in order to capitalise on the new British soul boom. Thus did The Velours become The Fantastics, who by 1971 had been driven into the arms of the then-ubiquitous Cook/Greenaway songwriting partnership, resulting in this, their sole chart entry.
As you might expect from the duo who brought us "I'd Like To Teach The World To Sing", the "soul" on offer here is more Batley Variety Club than Muscle Shoals – but considering this is also the same duo who brought us "Something's Gotten Hold Of My Heart", you might expect a better standard of songcraft than this routine boom-thwacker, which presaged Greenway's later compositions (There Goes My First Love, You're More Than A Number In My Little Red Book) for the similarly rehoused Drifters.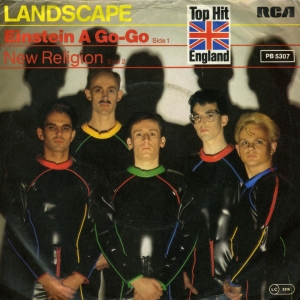 Having first become vaguely aware of Landscape as a jazz-rock outfit, I nursed a certain generational suspicion regarding their conversion to synth-pop ("pah, old men trying to be trendy" – oh, the cruelty of the young!) – but equally, I could hardly ignore band leader Richard James Burgess's production work on all of Spandau Ballet's early releases (still properly trendy in May 1981, at a time when I ascribed rather too high a value to such concerns). So the slightness of "Einstein A Go-Go" quickly palled for me (despite its arch references to IMPENDING NUCLEAR DOOM, but this was small beer next to Crass's "Nagasaki Nightmare"), eventually to be eclipsed by Thomas Dolby's similarly boffin-centric "She Blinded Me With Science" a couple of years later.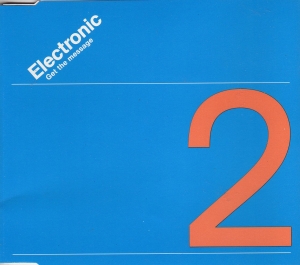 Johnny Marr once called Electronic's "Get The Message "the best song I've written". If he'd only added "since leaving The Smiths", I might have been persuadable (not that I'm exactly au fait with the back catalogues of The Healers, Modest Mouse or The Cribs, but I'd be happy to take his word on the matter).
As it stands, this is a striking case of selective amnesia from someone who once collaborated with one of the finest lyricists of the Eighties, only to fetch up in a songwriting partnership with someone who seemingly strings his lyrics together from fridge magnets. And that's with all due respect to Bernard Sumner – without whom the line from post-punk to New Pop to pre-house to post-house to Madchester baggy would be a good deal harder to trace – but, let's face it, he's hardly the most quotable of lyricists, and "Get The Message" is no exception.
So perhaps the strengths of "Get The Message" lie more in its arrangment (does its bassline carry a faint echo of Magazine's "A Song From Under The Floorboards", or have I just got Barry Adamson stuck in my brain today?), its mood, and the cultural weight which has been attached to it – for this is as good a representation of 1991 indie-dance as you'll find.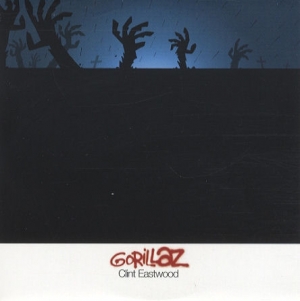 My initial reaction on hearing this, the debut single from Gorillaz, was baffled disappointment; I thought that a cartoon band would sound jollier than this, and I couldn't match the subdued mood with the sparky graphics. It wasn't until the second album, 2005's Demon Days, that the penny dropped and I began to grasp the point of the project, and so "Clint Eastwood" appeals to me more now than it ever did ten years ago. That said, there has always been a certain Late Review/Front Row/Sunday-broadsheet-culture-supplement dryness attached to Gorilla, which prevents them fully working as proper pop, and I'm already hearing it here.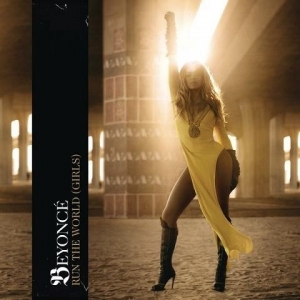 In place of 2011's real Number Nine (it's a reissue of Tracy Chapman's "Fast Car", and I make it a rule to exclude reissues), I've substituted the track at Number Eleven. My jury's still out on Beyonce's latest female-empowerment anthem; it doesn't immediately bowl me over, but neither did "Single Ladies" for the first few weeks, and the two tracks do share a certain elemental, schoolyard-chant quality.
Not being previously familiar with the track on which this is heavily based – Major Lazer's "Pon De Floor" – I shall deftly sidestep any discussions of their relative merits, save to say that my first thoughts on hearing "Run The World (Girls)" was "Ooh, she's doing a MIA on us" – an impression which its provenance rather confirms.
And so to the voting. Goodness me, has it really been a whole week since I unveiled the Number Tens? I shall endeavour to whiz through the remaining eight rounds a little more efficiently, but – to be frank – I've found this a rather uninspiring round to blurb about, despite the weightiness of some of the names involved. Perhaps you'll find more to cheer or to carp about than I have; I shall wait with baited breath!
Comments
«
1
2
All
«
1
2
All
Add your comment
Top of page